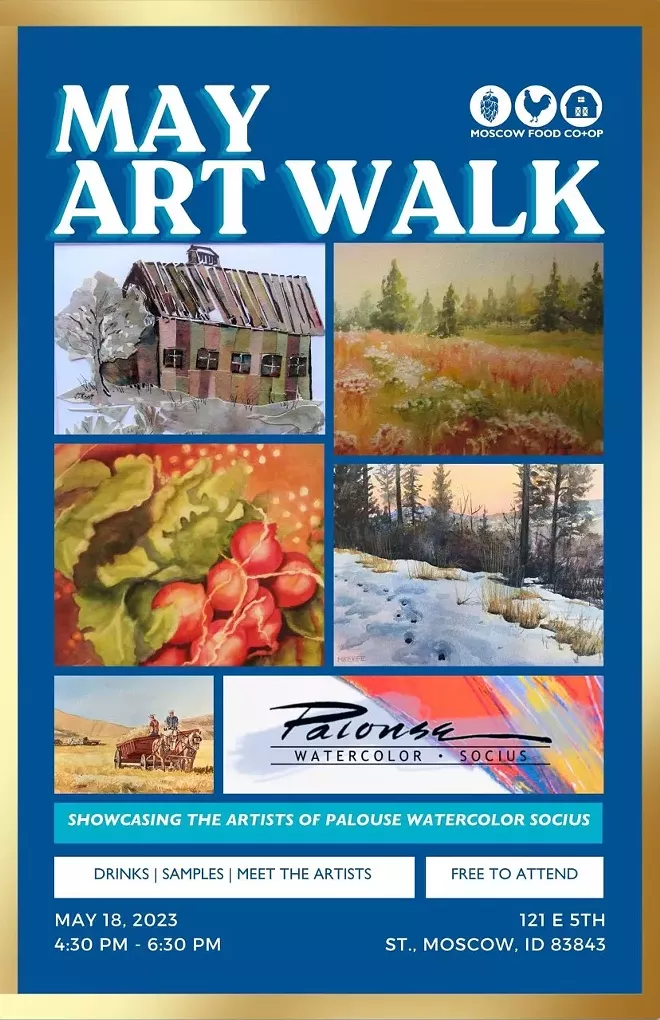 A watercolor exhibit nine months in the making is among the offerings this evening at the season's penultimate 3rd Thursday Artwalk in Moscow.
Visual, literary, culinary and performing arts will be highlighted at eight locations, including a custom installation by the Palouse Watercolor Socius on display from 4:30-6:30 p.m. May 18 at the Moscow Food Co-op, 121 E. Fifth St.
The group's members created themed pieces to celebrate the co-op's 50th anniversary, according to a city of Moscow news release.
Other locations are:
The Kenworthy Performing Arts Centre, 508 S. Main St., where this month's Silent Film Festival continues from 6:30-8 p.m. with "The Cabinet of Dr. Caligari" (1920) accompanied by live music composed by Moscow resident Liam Marchant.


Allegra Print & Imaging, 507 S. Main St., with stained glass on canvas by Polly Walker on display from 4-8 p.m.


Third Street Gallery, 206 E. Third St., participating from 4-6 p.m. with new artwork from Sam Chadwick, treats from Sisters Cookie Company and live music by Allison Anders.


Thrivent Financial, 409 S. Jackson St., 4-8 p.m., with artwork by New Mexico Watercolor Society member Jean Brainerd and "May Flowers," a collection of photographs by Patty Smith.


Moscow Contemporary, 414 S. Main St., 4-7 p.m., with current exhibits open as well as music by A Minor Issue, described as a (mostly) acoustic music group featuring stringed instruments, percussion and vocals, performing traditional and folk/pop music from 5:30-7 p.m.


Pour Company, 402 W. Sixth St. No. 102, 4-8 p.m., where the show "Mysterium: Gods, monsters, freaks, and sideshows" will be on display and Chef Jin's classic jumbo cookies will be available for purchase.


Palouse-Clearwater Environmental Institute, 1040 Rodeo Drive, 4-6 p.m., with a curated triptych painting project by Palouse Roots students mapping their adventures at the institute.
An event flyer with more details is at
www.ci.moscow.id.us/189/Artwalk
.