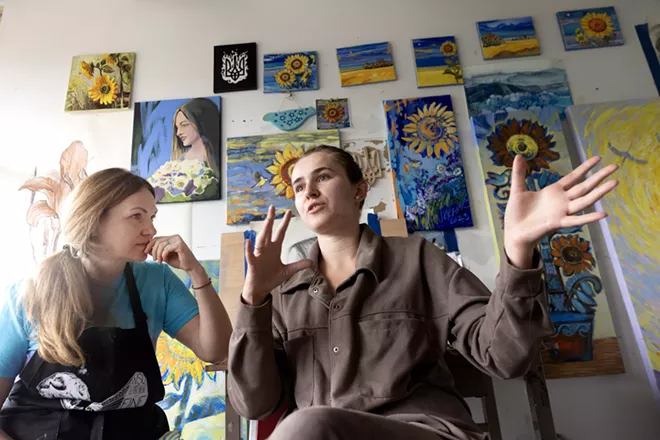 Two women, mother and daughter, paint in small side-by-side studio spaces at Washington State University's Fine Arts Center, at the heart of the Pullman campus.
Flowers and birds in bright, fresh colors dominate the acrylic canvases on the walls. But there are darker pieces as well, including one in black, reds and yellows with a spectral figure at the center and buildings of distinctly Ukrainian architecture in the background.
Olha Hrytsiuk's eyes filled with tears as she discussed her painting, explaining how quickly life in her hometown of Lutsk changed when bombing from the Russian invasion reached the city in northwestern Ukraine.
The paintings she and her daughter, Ivanka Petrukha, have created since arriving in Pullman reflect "many emotions," she said.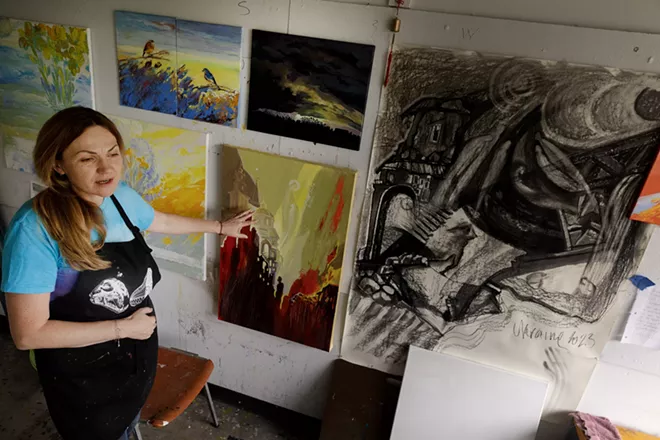 The artwork they've chosen to be displayed at a reception from 5-7 p.m. Thursday, Aug. 24, at WSU's Holland Library atrium represents one emotion in particular: happiness.
It's important, the women explained, to show the world joy is still possible.
"In this exhibition, we really want to show that we can be happy every day," Petrukha said
.
The studio where they worked in Ukraine, Ole-Art, was founded by Hrytsiuk 18 years ago. It specialized in art therapy, and as people fled to Lutsk, believing it was far enough west to be safe, the need for those services grew.

Hrystsiuk and Petrukha worked with both children and adults, teaching them to create beauty amid uncertainty, including flowers crafted from fabric and beads in Ukraine's colors of yellow and blue.

They continued that work until the spring of this year, when the war made staying there unsafe. With a connection to WSU in Olha's brother Vadim Jitkov, a scientific assistant in the crop and soil sciences department, they came to Pullman and were welcomed by the university.

Hrytsiuk and Petrukha have studied English since they arrived in the U.S. and frequently checked their phones during an interview to find the right word or phrase to describe their experiences. One result: "very dangerous."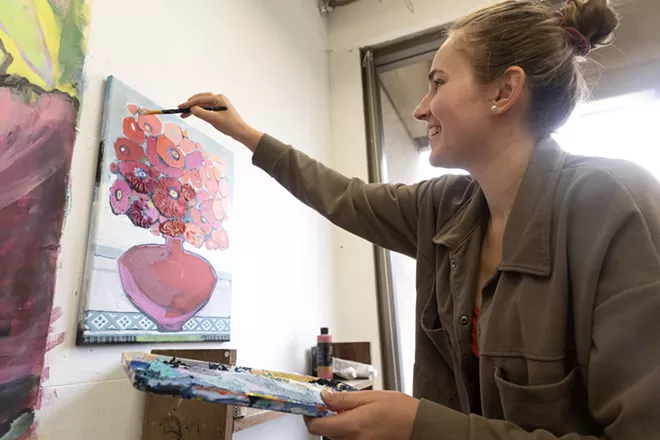 Bombs fell on Lutsk just more than a week ago, only 200 meters from Petrukha's home.
"The emotion, psychology, is very
hard," Hrytsiuk said, explaining many family members, including her mother, remain there.
Those family members describe sirens, sleepless nights.
What can Hrytsiuk and Petrukha do, from Pullman? They paint.
"It's my art therapy," Hrytsiuk said.
Petrukha turned to her phone again for translation. This time, the word she sought was "hostages."
One moment, the people in her city enjoyed everyday pleasures like the flowers growing outside their homes. Perhaps they had animals, a garden, she said. It was a "peaceful life."
In the next moment, she said, their dreams were destroyed.
It's not a new story for them. Hrytsiuk's father, an artist, poet, musician and Ukrainian nationalist, was killed in 1972, when she was 7 months old.
"They try (to) kill all Ukrainian culture," she said.
But her family, spanning several generations now, has flourished in the arts.
"Art is our life," Petrukha said.
Both Hrytsiuk and Petrukha emphasized gratitude among the swirl of emotions they've experienced, noting support from WSU English as a second language professor Elizabeth Siler and her husband, emeritus art professor Patrick Siler, and the kindness of fine arts department chairperson and professor Squeak Meisel.
"It's amazing," Petrukha said. "We come to (a) new country, and we can do what we love."
Stone (she/her) can be reached at mstone@inland360.com.
Ukrainian Art Exhibition reception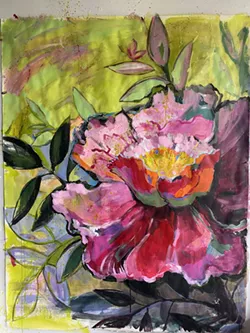 When:
5-7 p.m.
Thursday, Aug. 24
.
Where:
Holland Library atrium, 140 Glenn Terrell Mall, Washington State University, Pullman.
What:
Acrylic paintings on canvas
and
paper by artists Olha Hrytsiuk and Iv
anka Petrukha.