if you go WHAT: ISBA Kamiah Super Jam Bluegrass Festival WHEN: Friday through Sunday, May 16-18 WHERE: Lewis-Clark Resort off of U.S. Highway 12 in Kamiah COST: Free (Festival schedule below)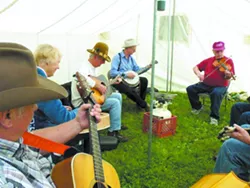 By MICHELLE SCHMIDT Inland360.com
Kamiah is no metropolis, but the three-day Idaho Sawtooth Bluegrass Association Super Jam that begins Friday at the Lewis-Clark Resort draws musicians from as far as Boise, Idaho Falls, the Tri-Cities and Missoula.
"The purpose of the festival is to connect and encourage bluegrass musicians," said Helen Smith, who coordinates the event.
But the musical result of the gathering is of interest to more than just bluegrass musicians. Smith said musicians and non-musicians travel for miles just to sit and listen to good bluegrass at the event, which runs through Sunday at the resort off of U.S. Highway 12 in Kamiah.
Whether it's a stage performance, workshop sessions or informal jamming that takes place throughout the recreational vehicle park and campground, people can listen and even participate free of charge.
Instrument workshops for all ages are offered by local instructors. Workshops include beginning guitar, banjo, mandolin, fiddle and bass, and intermediate/advanced guitar, banjo and mandolin. Registration for workshops is not required, participants are just asked to bring their instrument and join in.
"We'll jam until our fingers fall off, or until we fall asleep — whichever happens first," Smith said.
Festival Schedule Friday, May 15 5:30 p.m. – Harmony Workshop in Pow Wow Room 7 p.m. – Acoustic Open Mic in Pow Wow Room
Saturday 10 a.m. – Instrument workshops in Pow Wow Room Noon – Kids in Bluegrass program. Bring instruments or voices, learn and rehearse for 2 p.m. performance. 2 p.m. — Outdoor concert by Hotwire, Mill Town, Mike and Tari Conroy Band, Ozark Mountain Music and The Gravely Mountain Boys. 7 p.m. – Informal jamming at various campsites
Sunday 9 a.m. – Sunday Gospel Show in Pow Wow Room
Schmidt can be contacted at themichelleschmidt@gmail.com or at (208) 305-4578.