The Lewiston City Library opened to the public at its current site, 411 D St., with its summer reading program launch 10 years ago this month.

The renovated downtown building, with its exposed beams, high ceilings and spacious rooms, included big changes from its former home in the Orchards — particularly that last point.

The library's collections could be displayed in ways the former location never allowed, and activities from children's crafts to author talks could be accommodated. Today, the library is leaning into its mission of serving the community in the face of challenges to libraries' autonomy acr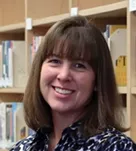 oss the country, including a failed attempt in Idaho to limit materials for minors.
Locally, Director Lynn Johnson said the pressure has been less intense, though the atmosphere for libraries generally is increasingly uncertain.
"We've just had good support here, so some of the experiences other people have had, we weren't really having," she said. "The majority of our patrons are just really supportive."
Patrons will have an opportunity to explore the topic of free speech from 6-7 p.m. June 14 in the library's second-floor event space during a group discussion titled
"Human Ties: Conversations that Matter — How do we define free speech?"
The conversation, led by representatives from the Idaho Humanities Council, will cover ideas and opinions about free speech, including the concept of offering literature for everyone, Johnson said, calling the topic "timely."
Engaging with patrons out in the community, always a goal, fits particularly well with summer. Registration for the library's summer reading program —
All Together Now, a Summer of Kindness, Friendship & Unity
— starts online Monday at
lewistonlibrary.org
and runs in person June 12-17 at the library, culminating June 17 with a celebration of the new
Library On The Go
van in the Lewiston Tribune parking lot.
The van, purchased with grant money, recently began making rounds to city parks, bringing books that can be checked out and laptops and tablets — as well as free Wi-Fi — that can be used on site wherever the van is parked. Many families are working to get their children back up to grade-level reading after the pandemic, Johnson said, and making books even more accessible helps, especially over the summers when learning loss often occurs anyway.The van's schedule can be found on the library
website
.
A host of events to celebrate the 10-year milestone begins June 10 with the
Lewiston Library Foundation's annual gala
, with a "Summertime in the '60s" theme. The event raises money for capital projects, which, combined with funds from the library's trust, recently included about $30,000 for half a dozen mobile carts now being used throughout the library.
The approximately 3-foot-tall shelving on casters provides space for more materials to be available to the public while also providing the flexibility to move them for events, including in the children's area, teen area, first-floor adult section and nonfiction section.
Foundation funding also helped with completing the library's rooftop space, which patrons can access when the weather allows.
The celebration extends to all ages, with events including a
dance party
June 15 and all-day
gaming jamboree
June 16, culminating with the reading program sign-up that week and Library On The Go official unveiling June 17.
A schedule of events is below.
Stone (she/her) can be reached at mstone@inland360.com.
Lewiston City Library 10-year celebration events
June 10:
Lewiston Library Foundation "Summertime in the '60s" Gala, 5:30 p.m., second floor and rooftop terrace. Patrons can contact the library, (208) 798-2525, to be put in touch with a foundation member for tickets, $100.
June 12:
Library plaque commemoration with Historic Preservation Commission, 4-5 p.m., event space. Historical talk by Garry Bush about the "Plaques and Postcards" project.
June 13:
Artist reception, 4-7 p.m., event space. For newly installed work by Central Idaho Arts Association artists Carol Stickley, Zinona Hough, David Martin, Joy Perkins, Sam Perkins and Doug Boomer.
June 14:
"Human Ties: Conversations that Matter – How do we define free speech?" 6-7 p.m., event space. Facilitated group discussion led by Idaho Humanities Council.
June 15:
Micah & Me Dance Party, 5:30 p.m. in the event space. For children of all ages. More: micahandmerocks.com/welcome.
June 16:
Gaming Jamboree, 10 a.m. to 5 p.m. Video games, board games and virtual reality in the event space.
June 12-17:
All Together Now, a Summer of Kindness, Friendship & Unity summer reading program registration: 10 a.m. to 6 p.m. June 12-15 and 10 a.m. to 4 p.m. June 16 in the Children's Library Space. June 17 registration in the Lewiston Tribune parking lot with Library On The Go. Online registration starts Monday at
lewistonlibrary.org
.