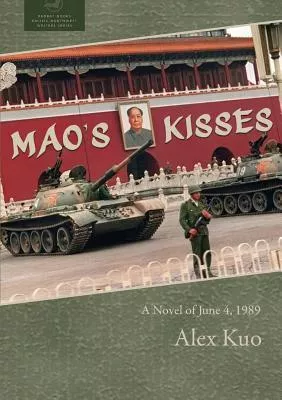 "Mao's Kisses: A Novel of June 4, 1989"
By Alex Kuo
2019, Redbat Books, LaGrande, Ore.
Paperback, 187 pages
Reviewed by Kenton Bird
Most Americans perceive modern China through vague memories: "ping pong diplomacy," President Richard Nixon standing on the Great Wall, and the fuzzy image of a solitary man with shopping bags blocking a column of tanks in Beijing on June 4, 1989. In recent weeks, coverage of the COVID-19 outbreak has brought global attention to China's massive response to this unpredictable and deadly disease.
Writing in the New York Times in January, Max Fisher observed that the epidemic has exposed both strengths and weaknesses of China's rigidly hierarchical government. "The coronavirus, like other health crises before it, is bringing out some of the deepest flaws and contradictions in a Chinese system that, for all its historic feats, remains a work in progress," Fisher wrote.
Understanding how China is responding to the outbreak requires a brief history lesson. And for Chinese of middle age (born after 1970), the story of today's China begins in 1989 in Tiananmen Square in central Beijing.
Alex Kuo, a retired professor of English at Washington State University, gives readers a behind-the-scenes glimpse of what might have happened in China's inner circles in "Mao's Kisses, A Novel of June 4, 1989." Published on the 30th anniversary of the Chinese government's heavy-handed suppression of a student-led reform movement, it is the first novel about the confrontation that left hundreds dead. Through a chronological retelling of the events, reconstructed dialogue and scene-setting details, Kuo serves up a compelling mix of fact and fiction.
The drama is told through the eyes of Ge, described as the personal stenographer for Deng Xiaoping (then 84), the preeminent leader of the geriatric government. These close-knit Elders imposed martial law in response to students seeking government reforms and an end to corruption, then made the fateful decision to send in the People's Liberation Army to restore order.
Not only does Ge dutifully take notes on these high-level meetings, he is Deng's partner in frequent games of qioapai (contract bridge). His observations lend a human dimension to the political discussions of how to respond to the students, whom Ge acknowledges had legitimate demands.
Kuo was born in Boston and lived in the French zone of occupied Shanghai during most of World War II. His academic career took him to the University of Colorado and Roger Williams College before WSU. In the spring of 1989, he taught American literature at Beijing Forestry University in west Beijing, adjacent to Peking University and Tsinghua University, which were sites of major campus unrest. "When I was there in 1989, it would not have been hard to find a continuing discussion on the subject (of political reform) among the students and faculty who trusted you," Kuo said in an email interview.
On June 4, 1989, Kuo was at his home in Moscow when he learned about the government's decision to order the Army to clear Tiananmen Square. According to news reports, hundreds of civilians were killed as they tried to keep army units from advancing on the square. The Chinese government estimated the casualties at 241, while the Times' Nicholas Kristof (who won a Pulitzer Prize for his coverage) put the deaths at 50 soldiers and 400-500 civilians. "I felt what I read in the news available in this country wasn't entirely trustworthy, and that made me want to see it firsthand," Kuo said.
That curiosity led Kuo back to China a little more than a month after the violence. "When I got there in mid-July, there were machine-gun posts manned 24/7 on the major intersections not more than two blocks from the university," he said. His painstaking research included interviews with students and professors, which he then correlated with published accounts in newspapers, magazines and books.
"Mao's Kisses" alternates between the escalating student protests and the day-to-day activities of the narrator, Ge, who bicycles from his home to a flea market near Tiananmen Square. There, he writes letters for illiterate migrant workers to their families in the countryside for a small fee. His contacts with low-status Chinese stand in contrast to Deng's exclusive enclave where Ge plays cards with the geriatric elite.
The student-led protests took place against a geopolitical backdrop: the Soviet Union's President Mikhail Gorbachev's mid-May summit with Chinese leaders. The continued presence of students in and around Tiananmen Square was embarrassing to the Chinese hierarchy during the Soviet leader's visit.
Throughout the novel, Kuo inserts "editor's fact checks" that clarify Ge's observations and explain the finer points of the highly competitive bridge games. And at the end, Kuo provides short biographies of main characters (including "Tank Man," photographed standing up to the column of armored vehicles) and a series of postscripts that go beyond the documented historical events. The result is a provocative and informative look at a time when the foundations of today's China were laid in a generational clash over the nation's future.
Kenton Bird teaches journalism at the University of Idaho. He took a course in Literature of the American West from Alex Kuo at Washington State University and, while editor of the Moscow-Pullman Daily News, provided Kuo with a press credential for one of his trips to China.