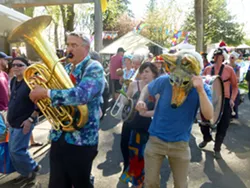 By Dominique Wald DWALD@DNEWS.COM
Renaissance fans are gearing up for the 42nd annual Moscow Renaissance Fair on Saturday and Sunday at East City Park in Moscow.
Every year the King and Queen Welcome Ceremony kicks off the Moscow Renaissance Fair, but this year Moscow will be having two Queens, Arlene Falcon and Louise Todd. Both women were chosen to lead the fair by the committee because of their involvement with the community. In 2000 Falcon volunteered as vendor liaison and has been on the committee ever since. She also is a DJ for KRFP Radio Free Moscow and started organizing the Moscow Hemp Fest in 2006.
Todd co-founded a First Book chapter in the Palouse, which is an organization that provides books to children in need. Todd is also president of Buy Local Moscow since she co-founded it in 2007 with Flacon to increase the impact of locally owned businesses.
The fair will also feature a Kids Market where children can sell and trade their own handmade arts and crafts.
With no shortage of activities and events, here's a 360 roundup of what to expect at this year's Renaissance Fair.
Saturday Henry C and The Willards: The bluesy Americana band is native to Moscow and will be taking the stage right after the Queen and Queen's coronation. La VaudeVillians: This American fusion belly dance troupe specializes in head dresses and belly dance attire. Simba and the Exceptional Africans: The Afrobeat rock and soul group is no stranger to performing in Moscow. They've been musical guests at One World Cafe and Friendship Square downtown. Da Beckoning: The rock-reggae fusion group released their latest album last August online on Soundcloud.
Sunday A Might Band of Microbes: This garage-folk duo features accordion, homemade instruments and occasional circus flair. Heidi Muller and Bob Webb: This music duo combines guitars, mandolin and electric cello for their unique sound. They've released three recordings and were featured on the NPR live performance radio show, Mountain stage. The Intentions: Band members and Moscow natives Marci Stephens, Jim Boland, Mark Hellinger, Nate Spain and Bill Thompson make up the eclectic-rock/blues-Americana group. Blue Funk Jailbreak: These Moscow natives have been performing their blues-funk and rock music across the Palouse since last June. Trout Steak Revival: These Denver-based folks have won an Emmy award for their soundtrack with Rocky Mountain PBS and won the 2014 Telluride Bluegrass Festival competition for their indie-folk grass sound.
A full list of vendors and performance schedules can be found online at www.moscowrenfair.org.
If you go WHAT: 42nd Annual Moscow Renaissance Fair WHEN: Saturday, craft booths operate 10 a.m.-7 p.m., Main Stage entertainment is from 10 a.m.-9 p.m., Stage II is from 10:30 a.m.-5 p.m.; Sunday, craft booths operate from 10 a.m.-5 p.m., Main Stage entertainment is from 10 a.m.-6 p.m., Stage II entertainment is from 10:30 a.m.-5 p.m. WHERE: East City Park, 900 East Third Street, Moscow. COST: This event is open and free to the public.