Montana duo Desperate Electric, made up of couple Ben Morris and Kayti Korte, employs a unique, genre-blending take to making music.


"We decided to call it 'electro-soul,' " Morris said. "It feels the most appropriate. I'm one of those people who genre-mashes and blends — just went crazy. And, a little personal: We started this project four years ago when we lived in Bozeman, Mont. And it just had a major overhaul in 2019, 2020. Kind of a rebranding."


Morris and Korte described the process of getting together and what ultimately led the group to being what it is today.
Diehard musicians
"It's been a journey," Korte said. "I mean, we've known each other for almost nine years. We met in college in choir, and Ben … he's the total music junkie. He plays every instrument."


Morris credited his upbringing in Moscow for his musical inclination.
"Ben was in a band in college," Korte said. "And then right after college, I joined. Then we started writing songs together, and it went really well. And we liked the songs, and we realized this is the thing we want to do full-time, as much as we can, all the time, forever."


"I think we both always knew that (music was what we wanted to do)," Morris said. "I started playing in band at 11 or 10 years old. And Kayti has been a serious vocalist her whole life. I mean, she took lessons growing up as a kid, all that kind of stuff."
The duo described what it's like coming back to Idaho, especially with Morris being from Moscow.


"As we traveled pretty far and wide, in the country at least, we just really feel that Moscow is a particularly supportive community," Morris said. "So supportive of the arts. And I feel very fortunate I got to grow up there."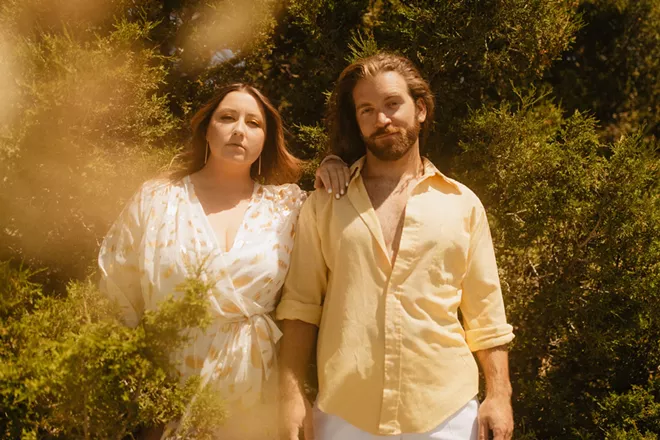 And then there were two
Despite growing up being traditionally and classically trained, Korte and Morris make a lot of Desperate Electric's music electronically, in part because of being just a two-person group and also for the variety it brings.


"We started off as a four-piece rock band four years ago," Korte said. "That was our original vision. It was kind of a more rock 'n' roll version, with live drums, than what we do currently. Then we began to tour and play more shows, and (the) more invested and more committed we were, the harder it was to keep (bandmates) invested."


Eventually, the group shrunk to three members and went through different drummers before committing to being a duo.

"We really struggled to find other members that wanted to live this lifestyle. It's not easy, and it's not glamorous." — Kayti Korte

tweet this
"We were a couple, so it's kind of a hard sell," Korte said. "I mean, do you want to ride around in a van and eat Taco Bell and make very little money with a couple? Be the ultimate third wheel?


And we really struggled to find other members that wanted to live this lifestyle. It's not easy, and it's not glamorous."


With just the two of them — barring a growing of extra arms — the electronic aspect of their compositions is convenient and works with the group's songwriting, Morris said. Their songs now lean more to the pop and EDM side of the musical spectrum.
The duo described their current living situation as a good inspiration for their music, with the landscape of Montana offering creative influence.


"I think it depends on the artist and people's preferences," Morris said. "But having the access to nature is really big for me. I love to get out in the mountains and clear my head, not talk to people. Just listen to music or listen to the sounds of nature out there, just take it all in. I can tell you it's a great way to disconnect for me."
Ready to make friends
The duo's passion for and lifetime commitment to music shows in their latest album, "What Do You Want," released last week and available on Spotify, Apple Music, SoundCloud and YouTube.


As a smaller group, Desperate Electric's tour stops include bars and clubs like Hogan's — where they'll play at 10 a.m. Friday, Sept. 16.


"I feel like, primarily, we're on the front lines," Morris said, "There is little to no separation between us and whoever is going to walk through that door. And we show up ready to make friends, basically.


"Big shows, the artist hangs out in the green room, they go to play the show and they maybe talk to the fans for 10 minutes at the merch table afterwards, and that's it," he said, "whereas we show up, generally in our crazy, flashy outfits, and … as soon as we're done playing, we … just step right off the 6-inch stage — sometimes that's what it is — and we just get straight to mingling.


"We sell some merch, then everyone gets to watch us schlep our gear out of there."
Kowatsch enjoys local arts and the PNW music scene. He can be contacted @tkseahawk13 on Twitter, by email at tkseahawk13@gmail.com or by phone at (208) 305-1814.
Editor's note: Inland 360's readership area is home to a rich variety of musicians representing a long list of genres, and we periodically feature brief profiles of these artists. If you have a musician or group whose story you'd like to see shared on our pages, please send me an email at mstone@inland360.com.