Films often let the audience travel without having to leave their seats.

With the Manhattan Short Film Festival, viewers can be part of a global experience without leaving the Pacific Northwest.
The festival is shown at theaters around the globe, including the Liberty Theater in Dayton. It began in 1998 when founder Nicholas Mason showed 16 short films on a screen mounted on the side of a truck in New York City for an audience of 200 people. Now the festival shows in more than 500 theaters on six continents and is the only film festival in the world to unfold simultaneously around the world.
"I want to emphasize this is a very different opportunity," said Glen Mendel, a board member of Touchet Valley Arts Council, which operates the theater. "This is the best place to get engaged and see some foreign and domestic films and participate in judging them as well."
For judging on the Best Actor and Best Film categories, audience members will be given a voting sheet to fill out and turn in after the festival. Those voting sheets will be sent to the Manhattan Short Film Festival to be counted. Voting also can be done online. Winners are announced about 30 days after the festival.
The film festival has been showing at the Liberty Theater for at least five years, according to Mendel.
"It has become a badge of honor for the Liberty to be one of the few theaters within the region showing, and showing more than one night, an international film festival," he said.
Organizers saw attendance grow every year before the pandemic, he said, with the event drawing viewers from communities beyond Dayton, including Pomeroy, the Tri-Cities, Walla Walla and Moscow.
"Now some folks make it a point to come every year," he said.
IF YOU GO What: Manhattan Short Film Festival. When: 7:30 p.m. Friday, Saturday; 3 p.m. Saturday (Sept. 24, 25); 3 p.m. Sunday (Sept. 26); 6:30 p.m. Tuesday (Sept. 28). Where: Liberty Theater, 344 E. Main St., Dayton. Cost: Adults — $9 Friday and Saturday; $7 Sunday; $6 Tuesday; Senior prices are one dollar less. More information on pricing and purchasing tickets can be found at libertytheater.org. Of note: Masking is required. Online: More information and a trailer can be found at manhattanshort.com.
The festival was held virtually last year because of the pandemic, and COVID-19 will affect attendance this year as well. Tickets, which can be purchased online, automatically put a five- to six-seat buffer between people or groups in the audience, effectively limiting seating to less than 50 percent of normal capacity.
Masks that cover the nose and mouth are required and are to be worn continuously in the theater, except when eating or drinking. Mendel said the theater has increased ventilation and installed air purifiers as well.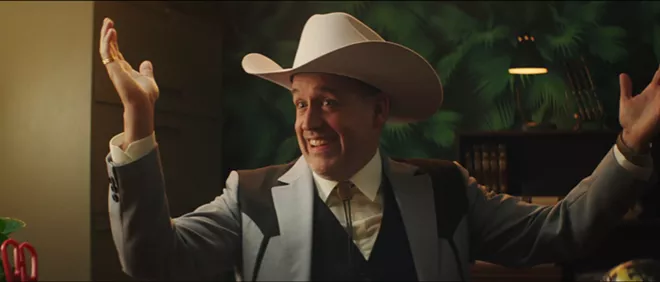 Featured short films
Here are the 10 finalists that will be showing at the Manhattan Short Film Festival, representing eight different countries. Films vary in length from nine to 19 minutes. This year's short films will be eligible for the 2022 Academy Awards. More information can be found at manhattanshort.com:
"Death By Handshake"
Directed by: Hudson Flynn.
Synopsis: A talented teenager copes with restrictions during the COVID-19 pandemic by filming a witty love letter to his New York City hometown.
"Ganef"
Directed by: Mark Rosenblatt.
Synopsis: A little girl, spooked by a dark tale from her mother's wartime past, starts to believe her adored house cleaner is a sinister thief.
"Bad Omen"
Directed by: Salar Pashtoonyar.
Synopsis: Kabul, Afghanistan. Pari, a widow and mother, struggles to purchase prescription glasses in order to continue working as a tailor.
"Rough"
Directed by: Adam Patterson and Declan Lawn.
Synopsis: Ex-paramilitary members enforce their own brand of street justice, but they bite off more than they can chew when they condemn a dog to death.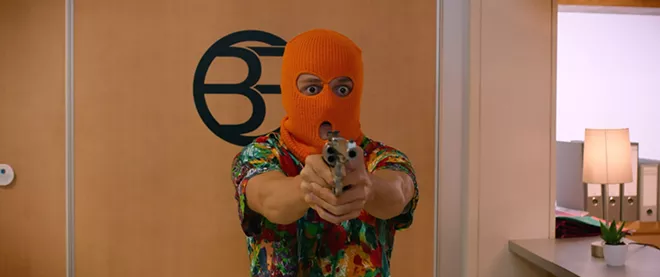 "Archibald's Syndrome"
Directed by: Daniel Perez.
Synopsis: Imitation may be the sincerest form of flattery, but for Archibald it's literally an affliction until he meets a free-spirited woman during a bank robbery.
"The Kicksled Choir"
Directed by: Torfinn Iversen.
Synopsis: A boy wants to sing in the local choir, but when his father gets into a fight with a refugee, his aspirations are in jeopardy.
"Closed to the Light"
Directed by: Nicola Piovesan.
Synopsis: In a moment captured in time, die-hard Italian fascists conduct reprisal executions of civilians in Lombardy during World War II.
"Out of Time"
Directed by: Delphine Montaigne.
Synopsis: The main character of this film, a youth named Felix, must resolve problems with the authority figures in his life.
"Aurora"
Directed by: Jo Meuris.
Synopsis: An animated tale of a little girl who falls in love with a beautiful horse named Aurora and learns about love, friendship and growing up.
"Monsieur Cachemire"
Directed by: Iouri Phillippe Paille.
Synopsis: A bank loan officer extracts dark secrets from an eccentric and mysterious customer in need of funds.