More than 115 artisans from around the West will sell one-of-a-kind jewelry, art, clothing, soap and more at this weekend's Art Under the Elms in Lewiston. Here's a peek of what's waiting at the 29th annual festival. A complete list of this year's artists is available at the Art Under the Elms website.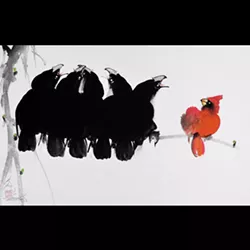 Art
Self-taught artist Dennis Brady of Sandpoint creates digital art by manipulating mathematical fractals (1) with inspiration from eclectic views of nature and the psychedelic 1960s. Printmaker Mare Blocker, founder of MKimberly Press of McCall, will sell cards (3), books and prints handprinted on a Vandercook 219 press. Toby Mercer's Paper Stratagraphics, large-scale paintings made from rag paper board, must be seen in person to be appreciated. Claremont, Calif., artist Tai Poon (2), who undertook Asian art studies at the age of five, will showcase his watercolor on silk.
Wearable Fiber
Cholpon Djumabaeva was born in Kyrgyzstan and grew up making clothing out of sheep wool. Now living in Gig Harbor, Wash., she and her husband hand-make hats (4), slippers, and ornaments from felted wool with designs inspired by 100,000-year-old petrographs. Psychedelic Sisters Creations will sell hand-spun yarn and knitted items in a rainbow of colors from Weiser, Idaho. Juju Gear returns with recycled clothing from Belgrade, Mont.
Wood
Curvy spatulas (5) and other kitchen utensils by woodworker James Talley of Deer Park, Wash., are made from domestic and imported hardwoods and will give any kitchen au naturel appeal.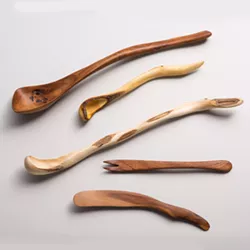 Ceramics
Hand-built, utilitarian ceramics are the specialty of Marriah House's Jeff Pinto of Sherwood, Ore. Among his three-dimensional glazed and fired ceramics is the Ocotopus Pot (6), with a realistic sea creature clinging to its rim. Juneberry Pottery of Colville, Wash., is the husband and wife team of LeaAyne Wilmot and Michael Eastep with 60 years combined experience in pottery. They mix their own glazes to create pieces with depth like their Tiger's Eye Plate, with a surface that looks like leaves floating in a pond.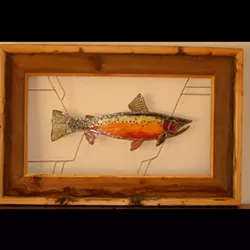 Glass
Selling life-size, stained glass representations of popular game fish framed in barn wood (7) will be Eric Larson of Twodog Designs of Dillon, Mont.
Jewelry
Karin Frye, Salida, Colo., creator of Art For Your Face hand-painted eye wear, will bring her vividly colored, intricately designed sunshades (9) and reading glasses. Bonny Waters of Salt Lake City's The Great Glass B creates flame-worked glass beads and hand-crafted glass discs strung together with sterling silver (7). Sometimes a horse has to get dressed up and Whirlwind Ranch Silver of Mabton, Wash., has the bling with custom designed headstalls (9) made from brass, sterling silver and copper.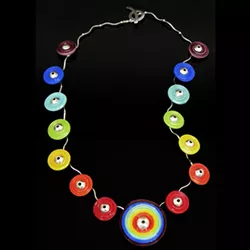 Mixed Media
Yan Inlow of Alameda, Calif., draws with a single silk thread. Her finely detailed, hand-made embroidered images of people, animals and village life are informed by studies of textiles in China and art in Japan. Turned wood is rejoined and blended with other materials to create vibrant colored baskets and other objects by Terry Jones of Trout Lake, Wash.
Fine Craft
Picture frames and candle holders made from stone are a specialty of Kim Peterson of Grangeville, who uses a water jet to create her works.
Lotions and Soaps
Boise chemist Julie Stauts developed a soap from emu oil that's free of alcohol, chemicals, gluten and nuts. The moisturizing milk of Nubian goats provides the material for lotions and soaps by Windrift Hill of Kennewick, Wash. Bath bombs made from organic cocoa butter and Epsom salts are one specialty of Jennifer Morsell, owner of Coeur d'Alene's Mountain Madness Soap Company. ———
if you go What: Art Under the Elms When: Noon to 6 p.m. Friday; 10 a.m. to 6 p.m. Saturday; 10 a.m. to 4 p.m. Sunday Where: Lewis-Clark State College campus Cost: $3 for a three-day pass; children 5 and younger admitted free Of Note: For every $50 spent at Art Under the Elms one earns a raffle ticket for prizes donated by participating artisans. People can obtain tickets by showing receipts at the fair's information booth.