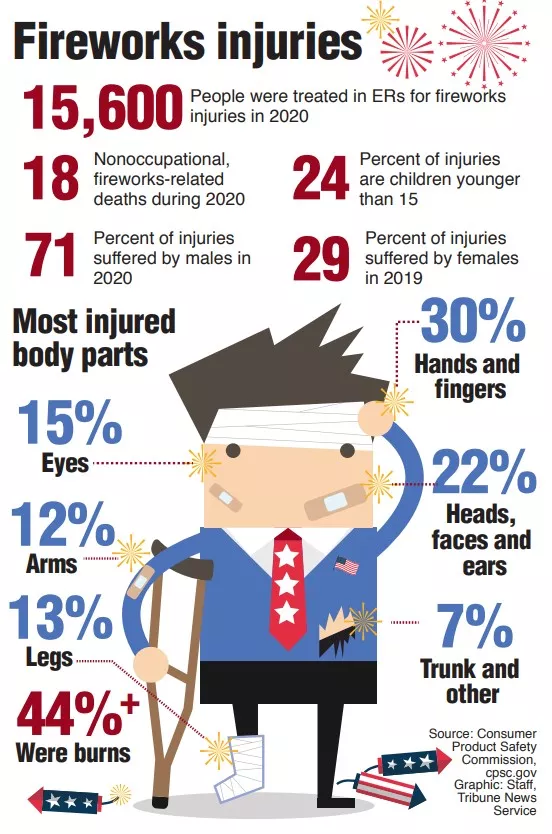 It's nearly the nation's birthday, and officials are reminding the public to celebrate responsibly.


For personal safety and to minimize fire danger, firefighters advise people to leave the fireworks to professionals and to attend a public show.
Case in point: Five fireworks-related deaths and at least five injuries already have occurred this month in Federal Way, Wash., Missouri, and North Carolina.
A 14-year-old in Federal Way lost his left hand and injured his other hand June 20 while playing with fireworks, according to the town's South King Fire Department.
A firework had blown up in the teen's hand. A 10-yearold also was injured. Both kids were taken to Harborview Medical Center for treatment. It wasn't known what kind of fireworks the teen was handling.

Murder charges have been filed for a June 17 house explosion near Black Jack, Mo., that killed a man and three teenagers who were assembling fireworks in a garage.


Terrell Cooks, 37, and Seneca Mahan, 43, provided materials to create explosive powder that would be loaded into fireworks canisters at the home, according to charging documents.


And a June 10 brush fire on a North Carolina farm caused fireworks to explode inside a container where they were stored, killing one person and injuring three firefighters — one critically — authorities said.
Lenoir County Emergency Services Director Murry Stroud said firefighters were dispatched to put out a reported brush fire at a farm in La Grange, N.C., as flames were approaching a building. He said fields were being burned off when the fire spread and detonated the fireworks stored in a container.
Authorities said a representative for the property was the person who died at the scene.
For those who opt to celebrate by lighting their own fireworks, a list of safety precautions can be found in the graphic at left