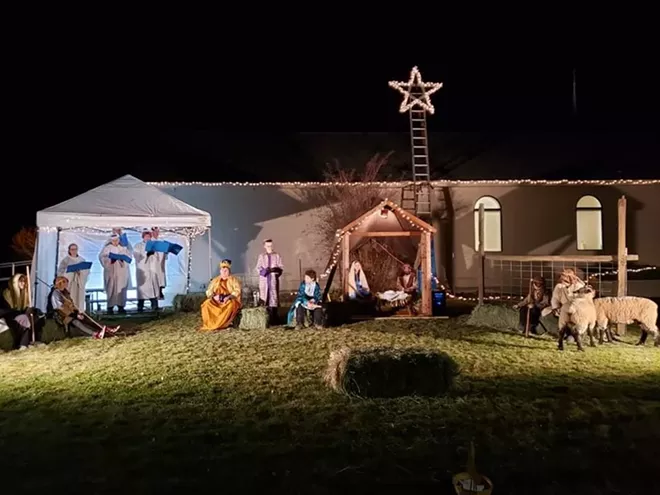 Certainly sheep feature prominently when most folks imagine the menagerie at the original manger scene. Camels make an appearance in most creches. And, of course, there's always a donkey.
It was that last creature that tested volunteers from Lewiston's Tammany View Baptist Church last year as they assembled their first live nativity, set to be repeated from 5:30-8:30 p.m. Friday, Dec. 23, outside the church at 3732 20th St.


James Finkbeiner was among a group of parishioners who agreed reenacting that holy night in Bethlehem would be a good way to share the Christmas message and engage with the neighborhood around their church.
Goats, turkeys and a dog were secured. Someone offered a donkey.


"It was a big donkey," Finkbeiner recalled.


The animal got as far as putting its front feet in the trailer meant to haul it to the church, but "his back feet would not get in the trailer."


Recognizing donkeys tend to be animals that, in Finkbeiner's words, are famous for "knowing their own minds," the group reconsidered.


A friend offered to bring an alternative, more tractable, equine.


"We had a Christmas mule," Finkbeiner said.


He estimated 40-45 volunteers will participate in this year's nativity, some posing for the scene or performing as singing angels, others assisting with setup, making cookies or greeting onlookers.
One role, however, won't be filled by a live reenactor.


"No live babies are going to be in the manger at the live nativity," Finkbeiner said. "It's a little too cold."
Last year's group of volunteers came together in the absence of a pastor, but this year's event takes place with the blessing of the church's new leader, the Rev. Dan Chambers, who, Finkbeiner explained, was "totally on board with" continuing it.


Indeed, Chambers said, he'd heard such great things about the live nativity, his main message to organizers was, "Just let me know what support you need."


Cold and rain in the forecast isn't a deterrent, barring an extreme weather event that would make having animals outside unsafe, Chambers said.


Rain was falling while the temperature hovered around 30 degrees a year ago when they were setting up, Finkbeiner said, but the group had plenty of help, including volunteers with tarps and heaters.

"It really wasn't too bad," he said. "It was cold and wet … but that's kind of what you expect in December."


Friday's event will allow breaks every half hour for the actors to warm up.


"We've got better facilities, and we're more organized about how we're getting folks signed up to help," Finkbeiner said, as preparations advanced earlier this week.


The effort serves multiple purposes for Tammany View Baptist parishioners, he said, getting them involved in doing something together and welcoming their neighbors as they bring a moment at the center of their faith to life.


"The Christmas story — everybody's familiar with it, even people who aren't overtly religious," he said. "It's that story of peace. It's the hope of having peace."


We all want to live in a better world, he said, and for Christians, the story is that Jesus has come, offering the way.


Stone (she/her) can be reached at mstone@inland360.com.
———
IF YOU GO

What: Live outdoor nativity, with cookies and hot cocoa inside.
When: 5:30-8:30 p.m. Friday (Dec. 23).
Where: Tammany View Baptist Church, 3732 20th St., Lewiston.
Cost: Free.
Of note: The event will be canceled if conditions become too extreme for the people and animals in the scene to stay outside safely, in which case an announcement will be posted at tammanyview.com.