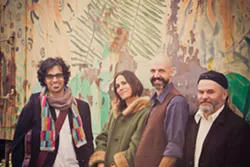 Walking into the hospital's burn unit, Rani Arbo noticed the trembling body of one patient in severe pain. As Arbo began to softly play her guitar and sing a quiet spiritual, she watched the bandaged body still.
Pullman Regional Hospital is exploring the physical response of the body to music in a 10 a.m. workshop Friday at the hospital. The two-hour event will include a panel discussion, education about the hospital's new Music & Memory program and will feature Arbo and her band, daisy mayhem, an East Coast-based string band. The workshop is free and open to the public.
Arbo's perspective on the role of music in medicine came after her battle with breast cancer in 2004. It was then that she saw that the focus of the medical system is on fixing a problem. This is as it should be, Arbo says, but that focus is what makes the presence of art so profound in a medical setting. As an example, she describes a group of musicians playing in a lobby.
"These people are kind of angels, for lack of a better word," Arbo says. "Their whole job has nothing to do with your problem. Their job is your soul, not your body."
After surviving the cancer, Arbo got training in arts and medicine. The medical setting, she says, is unique for musicians because of the intimacy of playing in such a personal setting. It presents unique challenges and requires sensitivity to both patients and hospital staff.
She recalls a visit to a pediatric clinic where a toddler was restless and fussy and his parents weren't around to provide comfort. When the music started, he quieted instantly. He cried when it came to an end.
But the music doesn't just affect patients; it affects loved ones as well. Arbo describes visiting a young girl with a traumatic brain injury, whose young, tough-looking dad was present.
"She didn't respond to the music," Arbo says, "but he did. His heart just split open and he was in the corner of the room just weeping. The music allowed him to have a moment of release."
Besides providing comfort, music can be of additional help for certain types of patients.
Pullman Regional Hospital recently became a certified facility for Music & Memory, a national program that brings music to memory patients. Currently in its beginning stages, the program provides memory patients — like those with dementia or memory loss — with a portable media player loaded with music of their own choosing.
"They're finding that memories come back very easily with the sound of even a couple notes," says Megan Guido, communications officer for the hospital.
The program is part of the hospital's philosophy of taking care of the whole patient, Guido says, and is a motivator for Friday's workshop on the role of music in healing. The event is a collaboration between Pullman Regional Hospital and Washington State University Performing Arts.
Bringing a little mayhem to Pullman
For the past 15 years, Rani Arbo & daisy mayhem has put out acoustic sounds that "reuse and recycle (but try not to reduce) 150 years of American music."
Audiences can expect to sing and clap along to covers and originals, from rocking Bruce Springsteen to haunting folk ballads, all held up by the sound of stringed instruments, harmonies and a suitcase. That's right: Another unique aspect of this band is its recycled percussion set, "the Drumship Enterprise," which is made up of boxes, tin cans and a suitcase.
Arbo explains that, as a string band, they rely on the push and pull of their instruments rather than a driving drum beat. At its heart, they're a "listening band," Arbo explains, which means they require percussion that doesn't overpower the subtleties happening on the stage between the other instruments. That flexibility on stage allows them to play and interact with their audience.
"We're very conversational, informal and inclusive," Arbo says.
And they're feel-good. Besides observing that the band is having fun and listening to each other, audience members also tend to comment after shows on how the music made them feel.
"What we hear is, 'I was having a rough day, I almost didn't come, but I'm glad I came. I feel so much better,' " Arbo says.
Arbo (fiddle, guitar) is joined by Andrew Kinsey (bass, banjo, uke), Anand Nayak (electric and acoustic guitars) and Scott Kessel (percussion). They're releasing their sixth album, "Violets Are Blue," an album of "mid-life love songs."
If you go: What: Rani Arbo & daisy mayhem When: 7:30 p.m. Friday Where: Daggy Hall Jones Theater at Washington State University in Pullman Cost: $16/adults, $13/seniors, $8/non-WSU students and youth, free to WSU students. Tickets are available online at TicketsWest.com or by phone at (800) 325-SEAT. Same-day tickets are available at the venue box office beginning two hours before the performance.