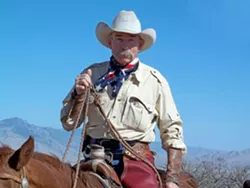 In 1985, in the official middle of nowhere, Elko, Nev., a group of folklorists cooked up an event called a cowboy poetry gathering. The New York Times, Wall Street Journal, Johnny Carson and the Christian Science Monitor rushed to the scene.
"It was overwhelmingly odd," Baxter Black says about the show that he was invited to headline. "I was the only human on Earth, probably in the universe, who made a living doing cowboy poetry," he explains.
The humorist and large-animal veterinarian, now 67, subsequently landed a commentary spot on National Public Radio and appeared on the "Tonight Show Starring Johnny Carson" until Carson retired. From his home in Benson, Ariz., Black continues to write a nationally syndicated newspaper column and hosts a TV show that airs via satellite.
Cowboy poetry's rise was helped by the 1980 movie "Urban Cowboy," starring John Travolta, Black says.
"Everybody we knew in town went out and bought a pair of boots and a hat made out of oatmeal full of feathers," he says.
When Black walked onto Carson's stage with his big, bushy mustache and cowboy hat, it was the real thing and the urban audience ate it up.
"We were authentic. Our stuff was original. It wasn't the same-old, same-old. With most comedians it's sex, relationships, the old lady stories. ... Our topic was animals. It was so different. Some of our stuff was really clever. It surprised people." "LOST" By Baxter Black
A source of pride amongst cowboys Is knowin' the lay of the land. And any poor fool that gets lost They figger ain't much of a hand!
They said, "We'll all meet at Bull Crick!" Then looked at me like a trainee! "Draw me a map and I'll find it! Columbus had nothin' on me!"
Daylight broke into my windshield, Headed south and loaded for bear. I turned at the Grasmere station I should'a shot myself right there!
Nothin' was like they described it, No mailbox where it should be, No coyote hide on the fence post, Now where's Mary's Crick s'posed to be?
Their map showed tourist attractions Including, I swear, Noah's Ark! Little ol' tricklin' Sheep Creek Was wider than Yellowstone Park!
I crossed the Cow and the Horse Crick And cricks named for Nickles and Dimes Through Nit Crick, Louse Crick and Crab Crick, Crossed Willer Crick twenty-eight times!
I drove demented and crazy! A'chasin' my tail like a dog! Coursing through desert and mountain, Brush thicket and cattail bog!
Fighting back panic, I'm thinkin', 'I could die and never be found! Worse yet, I'll look like a gunsel Who can't find his way outta town!
Harold was the boss of the truckers. I figgered he might set me right. So, I called him up on the two-way And explained my desperate plight.
He said, "Describe yer surroundings." I looked for a landmark somewhere. "Ain't nothin' but rocks and sagebrush!" He said, "Sonny, yer almost there!"
if you go WHO: Saddlebag Stories, an Evening with Baxter Black WHEN: 7:30 p.m. Friday and Saturday WHERE: Jones Theatre, Washington State University, Pullman COST: Adults $26, seniors $21, non-WSU students and youth $13, WSU students with identification $10 Tickets at ticketswest.com