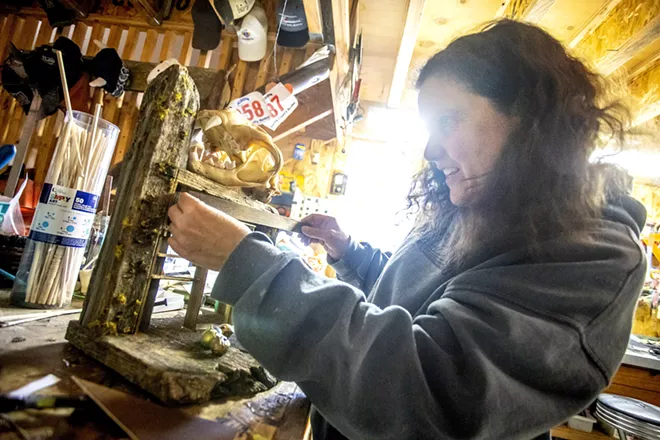 Editor's note: The days are dark, the excitement of the holidays gone. The winter doldrums loom, but it also can be a time for introspection and creativity. Through January and February, Inland 360 will highlight arts and crafts that help some of our readers find peace — and joy — in the moment and pass the time until the days are brighter, including crochet in the Dec. 30-Jan. 5 edition and miniatures this week


One of Rachel Jameton's biggest joys comes from immersing herself in the realm of the tiny.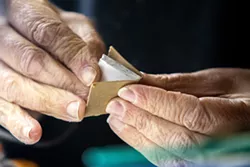 Jameton, a chemistry professor at Lewis-Clark State College, has been building richly detailed 1/12 scale miniatures from found objects in a workshop at her Asotin home since 2016.
She often incorporates elements of the outdoors, including skulls and antler sheds, something her late husband, Jeff Aiken, collected. Aiken, who died in 2016 of amyotrophic lateral sclerosis, or ALS, had a strong connection to nature.
"He was an explorer," Jameton said.
Some of her creations take the form of treehouses, forts built into branches made of wood and horn. Part of the process, she said, is "to be able to see and connect with the area we live in."


One especially playful piece has a mouse theme, the walls formed in the shape of a wedge of cheese.
What all Jameton's scenes have in common, aside from their scale, is the pure pleasure she found in creating them.
Avocation vs. vocation
"I'm a firm believer in avocation versus vocation," Jameton said of finding a pastime that truly elicits joy. "It really can just be something that you're passionate about."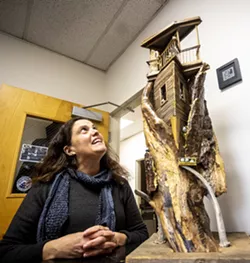 Part of that joy, for her, is in answering to no one but herself. As a professional, she has deadlines and expectations that must be met. When she's constructing a diminutive bookshelf or a hammock sized for a mouse, the idea, the process and the results are hers alone, and she is free to accept the result, whatever it might be, without conditions.
And that's what she loves: She doesn't have to excel at it. She can be "not good," and that's OK.
She can feel free to get better, and that's generally what happens. But she doesn't replace her early work as her skills develop, instead leaving that progression on display.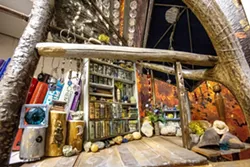 She pointed out some marble-sized owls she crafted for a previous piece compared to more polished recent efforts: "It was my first time making owls," she said.
She sculpts the big-eyed creatures from a ball of FIMO modeling clay, then does "a little imprinting, baking and painting."
They're now one of her favorite items to create.
Remembering the joy
Especially in the past couple of years, which have left many people feeling burned out, Jameton said it's important "to have some space to remember the joy."
Part of what she appreciates about fashioning miniatures is the accessibility. The materials, primarily found objects, are inexpensive. And she can easily dip in and out of a project.
"Sometimes you can just do 15 minutes on the way to the gym," she said.
That ability to grab a few minutes — or a few hours — when she can, makes it work.
"You don't want to have so much structure needed that there's this huge obstacle to doing it," she said. "This is definitely my time, and so finding a balance for it is important and a challenge."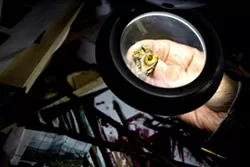 Jameton paints, and she dabbled in sculpture, but neither strikes the chord miniatures do.
"You know that feeling of being a little kid and you're super excited about something?" she said.
That's what she's found and hopes others can find with whatever avocation they pursue.
Connection in verse
Poetry inspires Jameton, and she incorporates it into many of her scenes, including a favorite by former University of Idaho professor Robert Wrigley in a piece dedicated to Aiken.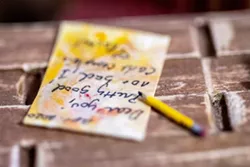 She chose a poem titled "Virga," by Jennifer Houle, (see accompanying poem), for a complementary piece designed as a reflection of herself.
A poem sometimes appears in a piece in its entirety, a few words at a time on tiny book spines. Or she might weave in an excerpt, phrases scattered through a room — though she prefers to include whole poems.
Noticing the words, a viewer might be drawn deeper into a scene, both by the poem itself and Jameton's detailed creations: an old-fashioned stove, translucent jars of jam, pencils more slender than a toothpick, a postage stamp-sized sheet of paper adorned with handwritten verse.
'Grandmothers rock'
Jameton chose two words when explaining how she gravitated to miniatures: "Grandmothers rock."
Many avocations in which people find meaning hold connections to grandmothers: cooking, baking, knitting, sewing, canning.
That was her introduction to miniatures.
"I get to kind of connect with my grandmother," she said, of returning to the activity she first experienced as a child. "It really has a lot of meaning on a lot of different levels."
There's a "woo-woo" aspect to it all, as Jameton put it: "that connects to who we are as a human being, what it means for each of us to be human."
The reward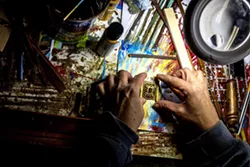 "Rewarding," a term Jameton said she's been hearing more over the past year or so, strikes her as different, in important ways, from other words to describe work or hobbies.
Rewarding endeavors are not always easy or fun, "but you walk away with something important to yourself," she said.
It's as if some shift in consciousness has led more people to recognize and appreciate the concept of "reward," the value of engaging in a chosen task that brings fulfillment.
"Now I hear it so frequently," she said. "I think that it acknowledges that we can run into challenges and obstacles, but that we are still gaining."
She said she hopes to model that appreciation for indulging in rewarding activities for her students and her children (her children at home are 11, 13 and 16, and she has adult stepchildren).
None of her kids has gravitated to miniatures, but "they have their own things," she said.
Sharing the results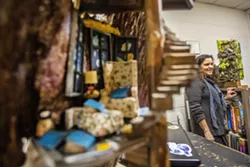 Even as she reaches into her past, capturing the pure joy of childhood, Jameton shares the results in a decidedly modern way: through Instagram.
The social media platform, where she posts photos and videos of her miniatures under the handle @mousebearminis, allows creators to connect with peers and share their work with each other and anyone else who finds and follows their accounts.
For those who would like to see her creations in person, some of her pieces will be on display at the Lewis-Clark State College Center for Arts & History in the spring.
Stone can be reached at mstone@inland360.com
———
Virga
Malum consilium quod mutari non potest.
It's a bad plan that can't be changed.
Relief to see the rain changing its mind,
forced to think again by circumstance,
to lash the distant treeline with its rods
of varied slates on ash, a striking
tinct of want, scrawled in blurry slashes,
building its potential till it cannot
be held back. Virgule. Remember
what it means to wait. Especially
at dawn, when all is verge, birdsong
nudging consciousness. Longing,
half-awake, we resist fullness,
knowing it will mean curtailing dream
and warmth let go for good, as once
out into day, our feet will touch ground,
changing us. Sudden storms may
turn us right around, the chilling drop
of some cold revelation send us back
to go within before we leap anew.