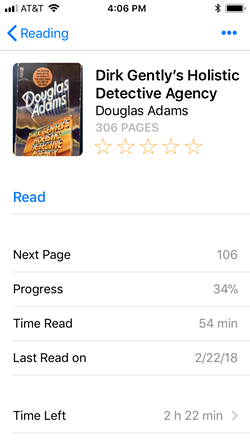 By Kaylee Brewster
Plugged in App review: Leio
When I'm being entertained by movies or TV, I want to know how long it's going to take for me to finish what I'm watching.
I'm no different when it comes to reading -- but it's harder to figure out how much of a time commitment a given book will require. That's where Leio comes in. A friend recently recommended this free downloadable app that's basically a Fitbit for books.
Once you download the app, you can enter in the title, author and total page numbers of the book (and a photo if you want). When you start reading, click "read," and when you're done click "done." If you're like me, and often have interruptions while you read, you can also pause your reading time.
When your reading session is over, you mark at what page you started (which is saved from your last session if you don't remember) and at what page you finished. It then tells you how much progress you made in percentages, how long it will take to finish the book in hours and minutes, and what date you can expect to finish.
When you've completed the book, you can mark it as finished and archive it. The archives tell you when you started, when you finished and the total time it took to read over the length of days (i.e., three and a half hours over eight days). It also averages your sessions and tells you how long you read, how many pages per session and time spent per page.
The app also allows users to take notes while reading (which would have been helpful for all my literature classes). You can rate the book and, because it tracks the books you read, if you ever want recommend "that one book," you have a list to help you recall what it's called.
Leio is also great for readers -- whether reading for school, work or pleasure -- as it compiles all the data you might want to know to help you finish the book before it's due back at the library.