On the stunning cover of the latest novel by Mary Clearman Blew, two riders on horseback canter across an open plain. High above in a vast Montana sky, Blew's name appears like a ghost whispering from the clouds, in tiny type, above the title, "Think of Horses." So there's the first mystery: What does she mean, "Think of Horses"?
I was fortunate to have taken a memorable freshman English class from Blew at Lewis-Clark State College a few decades ago. (She is now professor emeritus of English at the University of Idaho.) Having always lived in densely populated ocean-port cities as a Navy brat, I was new to small-town life. There was a mind-opening moment as she read aloud a piece — might have been about Wyoming — when I was touched by the life-giving beauty of words, and how language can connect the reader to landscapes that might seem remote and empty, but are really quite alive and full of wild and rich potential.


In her fourth novel in a quartet set in Montana's backcountry, Blew returns to familiar territory. In the Big Snowy Mountains, between the pine-covered ridges, cellphone service is spotty and gunfire can be heard daily. The story is told mostly from the perspective of Tam Bowen, now 50, who was raised mostly by her father, a horse breaker. Tam has learned skills from a young age that most girls — or boys, for that matter — do not: how to handle a bridle and harness, how to snub a green horse.
Most importantly, her father taught her that "woolgathering" — idle daydreaming — is downright dangerous when you're on a horse. So Tam was also, by degrees, slowly learning the skillful art of paying attention — mindfulness — while attending to her daily chores. But as a child with an active imagination, she also learned to snatch moments when she could allow her mind to wander freely, to conjure and write colorful stories about people.


At 17, she is eligible to apply for a full-ride university scholarship. Then she becomes pregnant. While Tam's story could have ended differently, she has big dreams and a teacher who believes in her. She leaves home and takes the scholarship, juggles the demands of her studies and single motherhood, and finds her way to financial security by writing sexy romance novels. The next big fracture in her life happens when her young son, Rob, comes to an age when he is teased and humiliated at school over her steamy novels and their lurid covers. He despises her, and they become estranged. Now, it's her turn to pay child support.


Still estranged from Rob when she turns 50, Tam finds herself depressed, in an in-between state, as she considers her past and future. She returns to her childhood home, a neglected cabin in Montana, for a summer and struggles to shut out troubling thoughts. But as the summer progresses, she becomes increasingly engaged with the needs of two teenagers and other members of the small mountain community, and finds herself nudged by the ghosts of her past to find reconciliation with her present-day circumstances.


The not-quite-invisible silver thread that runs through the tale is the glimpse into Tam's thoughts as she must constantly work to keep her mind in the present moment, because "flesh and bone is here and now." By paying attention, she and others are able to savor those brief golden moments that "shimmer, shine and dance."


There is plenty of coffee, bourbon and adventure on horseback as the story unfolds. The inhabitants of the mountain community are equally flawed and vulnerable, but always redeemable. The final chapter, while somewhat bittersweet, is lovely and light, like a fortune cookie after a meal. By the end, I felt I would like to revisit these colorful characters I have come to know and love.


I also noticed a few apparent editing issues in the book, including several lines of text being repeated, along with a full paragraph, which does not seem intentional.


Not far into the story, I was reminded of something I read years ago about the windhorse, an image that represents the idea of our mind being like a wild horse, our unbridled thoughts taking us in every direction and emotion until we learn to pay attention and become an expert rider. So after reading the book I was delighted to learn that the term windhorse is familiar in equine training and therapy for teens with anxiety.


In other words, think of horses.
Petticord is a bookseller at "And Books, Too" in Clarkston. She can be reached at sheilap@fastmail.fm.
———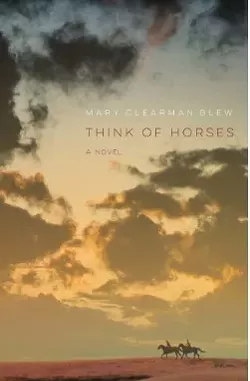 IF YOU GO
WHAT: Mary Clearman Blew, author of "Think of Horses" will speak and sign books.
WHEN: 7 p.m. Nov. 15.
WHERE: At the Kenworthy Performing Arts Centre, 508 S. Main St., Moscow.
BOOK SALES: BookPeople of Moscow will have copies available for purchase.
PRESENTED BY: The University of Idaho and BookPeople of Moscow.