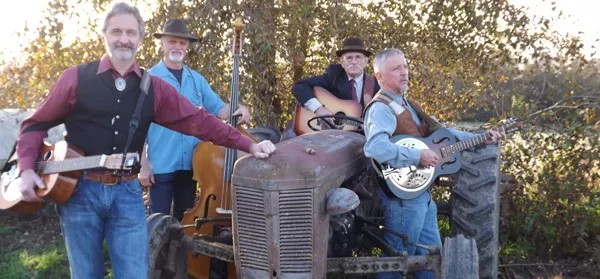 The seventh annual Valley Bluegrass Festival, Pickin' on the Clearwater, promises a variety of sounds within the genre, for bluegrass fans and newcomers alike.


The event, resuming after a two-year pandemic hiatus, starts today, June 2, with camping access opening at the Clearwater County Fairgrounds in Orofino, a potluck and jamming.
Performances begin in earnest Friday, June 3, with several locally known bands performing throughout the day, capped by headliner FarmStrong at 8 p.m. A similar schedule holds for Saturday, June 4, and the festival wraps Sunday morning with a gospel sing.


FarmStrong's Jim Faddis, Cort Armstrong, Rick Meade and John Pyles "collaborate in an acoustic quartet that puts singing at the forefront of their sound," according to the band's website.
Not country or bluegrass, the band "taps deep into the roots of these musical genres, as it reaches beyond the surface to a vast array of American roots-based music, from folk and rock to Motown and blues," according to the website.


The theme of the Lewis Clark Bluegrass Organization, which puts on the festival, is "Bluegrass of yesterday and today," said recently retired board member Kris Hackwith, of Lewiston, explaining that means the group embraces both traditional and "progressive" bluegrass.


"There are a lot of young people, and a lot of bands that are doing progressive bluegrass," Hackwith said.


Traditional bluegrass, along the lines of Bill Monroe's Bluegrass Boys from the South, might be what people think of when they hear the term.


The progressive bands, she said, "write a lot of their own songs, or they'll kind of pep up some of the traditional songs."


Music lovers don't need to be bluegrass fans to appreciate either sort, Hackwith said.
"All they need to do is appreciate acoustic music and music you can actually hear people singing the words and hear the instruments," she said. "It's just a really relaxing, fun time."


The sounds will be familiar to aficionados of many genres.


"All the bands have kind of their own style. A lot of them used to play country music or rock music. Some (are) more bluesy, some more folk," she said. "If you think they're all gonna sound like (music from the movie, set in rural Mississippi,) "O Brother, Where Art Thou?" — they're not all going to."


Several longtime Lewis Clark Bluegrass Organization members retired from the board earlier this year, including Hackwith and her husband, Denis, along with Scott Lombard, Spencer Overall and Dave Herzog, all of whom are helping with the event as they pass on the reins.


This final festival as board members includes some family connections for the Hackwiths.


FarmStrong, from the Sequim area in western Washington, is promoted by a member of the band Prairie Fire, whose late bass player, David Hackwith, was Denis Hackwith's brother.


David died Aug. 31 last year, and a celebration of life service is June 11 in Cheney, where Prairie Fire is set to perform.


"So it's going to be a band reunion," Kris Hackwith said.


David also played in Custer's Grass Band, which was formed in '70s and is planning to perform at his service as well.


The bluegrass reunion will continue when Custer's Grass Band plays the Artisans at the Dahmen Barn summer concert series in Uniontown on June 12, Kris Hackwith said.

Stone (she/her) can be reached at mstone@inland360.com.
———
If You Go
What: Pickin' on the Clearwater: Valley Bluegrass Festival.
When: June 2-4.
Where: Clearwater County Fairgrounds, 155 Wisconsin St., Orofino.
Cost: $15 weekend pass; $10 day pass; children 15 and younger free with paying adult. Payments by cash or check only at the festival; camping, tickets, Lewis Clark Bluegrass Organization membership and 2022 festival T-shirts can be purchased in advance by credit card at lewisclarkbluegrass.squarespace.com. Camping fee is $20, with a limited number of power hook-ups available for $5 on a first-come, first-served basis.
Information: lewisclarkbluegrass.com.
Highlights: Headliner band FarmStrong plays Friday and Saturday evenings.
Festival schedule
Thursday, June 2


Noon — entry for campers
Evening — campers' potluck, jamming
Friday, June 3 (Gates open at 9 a.m.)

10 a.m. — LCBO Band
11 a.m. — Roosevelt Road
noon — camper band scramble
2 p.m. — open mic
4 p.m. — Beargrass
5 p.m. — Buck 99
6 p.m. — Heartbreak Pass
7 p.m. — Wanigan Express
8 p.m. — FarmStrong
Saturday, June 4 (Gates open at 9 a.m.)


10 a.m. — music workshops
11:30 a.m. — Pioneer Ramblers
12:15 p.m. — Banana Belt Fiddlers
1 p.m. — open mic
1:45 p.m. — announcements
2 p.m. — LCBO Band
3 p.m. — Roosevelt Road
4 p.m. — Wanigan Express
5 p.m. — Heartbreak Pass
6 p.m. — Beargrass
7 p.m. — Buck 99
8 p.m. — FarmStrong
Sunday, June 5


9 a.m. — gospel sing