For many women, donning a bra is an automatic task. Few question the need to harness their breasts each day. For some, even asking why — especially in public — might feel uncomfortable.

This is the kind of women's history Velya Jancz-Urban and her daughter, Ehris Urban, relish — not grand events or influential figures but the minutiae of reality which is often overlooked, ignored or deemed irrelevant. They call it "herstory unsanitized."
The bra, as we know it today, is a relative newcomer to women's history, invented a little more than a century ago. Tuesday the mother-daughter duo will tell the story of undergarments evolution in the online talk "Booby-Trapped: The Bra in America," organized by the Asotin County Library. Ehris, wearing a bodysuit, will model bras from different decades.
Changes in bras over the last century were dependent on fashion, said Velya, "whether it was time for boobs to be smooshed or exposed."
Based in Woodbury, Conn., Velya and Ehris are frequent collaborators. Ehris is an herbalist and holistic nutritionist. Velya is a former English teacher and self-described "history nut." They've co-authored two books. In 2019's "How to Survive a Brazillian Betrayal," they tell the true story of how their family sold everything to start a new life in Brazil, only to find they'd been duped and had to start over with nothing. Their second book, "Dare to Be a Green Witch: The Grounded Goodwife's Guide to Wellness and Holistic Healing," is scheduled for release in July by Llewellyn Publications.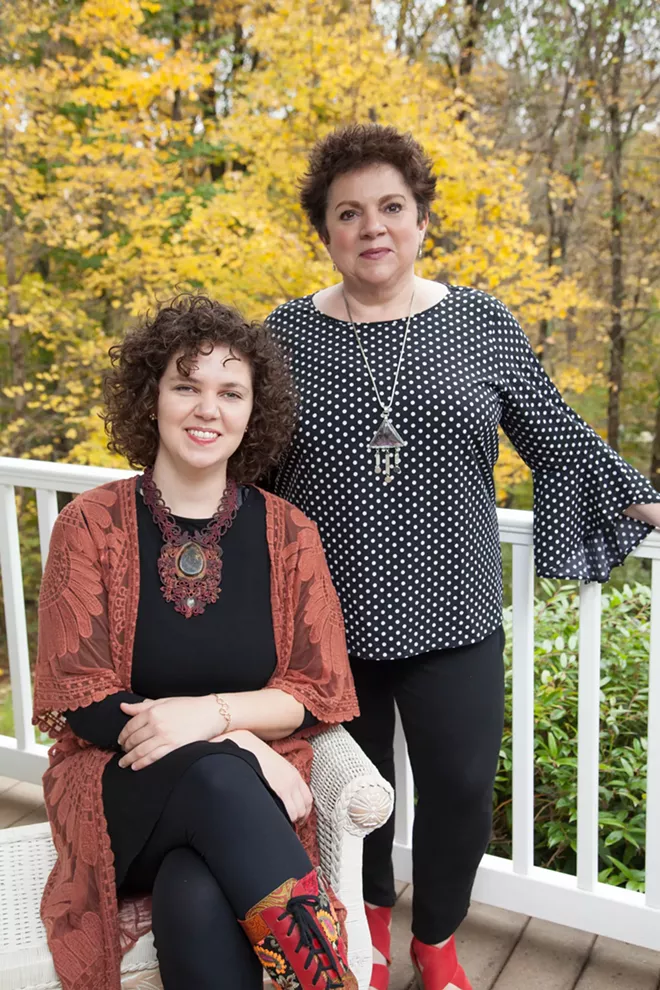 Exploring topics omitted from history through public talks is a way to remind women how far they've come and how far they can still go, Velya said. In other presentations, they've explored how women dealt with menstruation before underwear was invented in 1825 and the role corsets played in the passage of the 19th Amendment.
For centuries, waist-cinching corsets were the dominant undergarment for women.
"Corsets lifted breasts from below. It wasn't until bras were invented that they lifted the breasts from above," Velya said.
The bra ousted the corset from popularity during World War I. As men were sent overseas to fight, women took their jobs in factories. Corsets were too constrictive for factory work, and bras offered them the ability to move more freely. On top of that, in 1917 the U.S. government called upon women to stop wearing corsets as a way to conserve steel for the war. The effort saved 28,000 tons of steel, enough for two battleships, Velya said. The women show an authentic bra from the 1920s in their presentation. It is a loose-fitting, simple garment in comparison to bras from the '50s, which could include a dozen different hooks. In the '60s, bras became more relaxed.
"As women gained more rights, they rejected restrictive underwear," Velya said.
Presenting history with a dose of humor is important to both of them. They've noticed people want to learn about topics like the history of menstruation but can be "squirmy" when it comes to discussing them because of old taboos that continue to be reinforced, Velya said.
"Why is the grocery store row containing tampons and maxi pads often labeled the 'feminine hygiene' aisle?" She asked. "Hygiene implies it's inherently dirty. Why not period products or menstrual care?"
They've witnessed similar attitudes toward holistic health practices, which they describe as an approach to health and diet that involves natural and homemade remedies instead of pharmaceuticals or processed, prepackaged products. In their forthcoming book they offer simple recipes for things like bone broth, fire cider and fermented foods. While teaching cooking classes, they observed that many people no longer know how to prepare these foods, which were once staples.
"It seems a lot of people want to get into it, but they're scared to try it and don't know where to start," Velya said. "People have it in their heads they're going to poison themselves; but people have been making kimchi since the Great Wall of China."
Preregistration for "Booby-Trapped" is available through the library's website. More information about the speakers is available at www.groundedgoodwife.com.