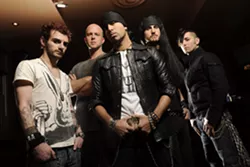 Rockin' on the River is Clarkston's outdoor concert of the year.
In 2012, 1,500 people bought tickets to see rocker Scott Weiland. This year's concert is a double-header featuring the bands Pop Evil and Trapt.
"We try to look for what's popular at the time, yet affordable to our small area," says Wendy Price, a member of the Lewiston-Clarkston Valley volunteer committee spearheading the event. "A lot of times they're kind enough to do it at a little bit of a discount because we are a nonprofit that gives back."
All proceeds from the concert return to the community, first to volunteer groups that staff the event and then to groups deemed in need, Price says.
The concert is 4 to 10 p.m. Saturday at Gateway Golf Center, 725 Port Way, Clarkston. Opening bands are Vial 8 of Moscow and Spokane's the Fail Safe Project. Tickets are $27 in advance and $35 at the gate. Kids 5 and younger are admitted free. Tickets are available in Clarkston at Century 21 Price Right, Rick's Family Foods (Highland Market) and Heights Family Foods; and in Lewiston at both A&B Foods locations. Tickets are available online through today at rockinontheriver.org.
Pop Evil
Pop Evil's song "Trenches" is in its third week as a No. 1 hit on the Active Rock chart, a ranking of the top 40 songs playing on 59 rock radio stations across the country.
Lead singer Leigh Kakaty has said the hard-driving song is about Pop Evil's battle to dig out of the trenches to become a band that survives the test of time. The song is from their third studio album, "Onyx," released this year.
The five-piece group formed in Grand Rapids, Mich., in 2001 as a cover band. Kakaty has said their 2006 song "Somebody Like You" transformed Pop Evil from a cover band into a national band. The song tells the story of a man who loses his girlfriend in a car accident and was written after the death of Kakaty's girlfriend in 2004.
Trapt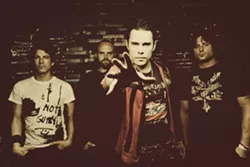 In 2003, Trapt captured national attention with the song "Headstrong," which reached No. 1 on the Billboard Mainstream Rock and Modern Rock charts. The song won two Billboard Music Awards — Modern Rock Track of the Year and Rock Track of the Year.
The hard rock, alternative metal band formed in the mid-1990s while members were still in high school in Los Gatos, Calif. Their latest song, "Love Hate Relationship," is at No. 35 on the Active Rock chart.
The quartet's latest album, "Reborn," released in January, is their first independent album. Trapt vocalist Chris Taylor Brown has said, "With 'Reborn' we really wanted to use new sounds and textures as well as experiment with delays, reverbs, synths and many other techniques we have learned over the years or have heard in our influences."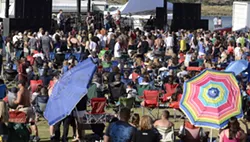 Ten things to know about Rockin' on the River
Seating is first-come, first-served, so get there early. Gates open at 4 p.m. Saturday. Music starts at 4:50.
Unless you enjoy standing for hours, bring blankets or chairs for seating.
It's hot. Umbrellas are permitted in the back.
Did we mention it's hot? The fire department will be there to hose off your sweat.
Don't even think about bringing your own food and drink. Vendors are on site.
You won't be posting videos for your friends. Recording devices aren't allowed.
If you're 21 and desiring libations, bring your ID for a wristband at the gate.
Parking is $2. Don't forget to tip the Clarkston Lions Club volunteers.
Debit and credit cards will be accepted this year, with a small fee for using them.
Proceeds go to community organizations, so go ahead, buy an official ROR T-shirt ($10) or tank top ($12).