Byron "Barney" Saneholtz is one of three artists featured in the exhibit "Artists with a History," on display at Artisans at the Dahmen Barn in Uniontown.

The three artists, Saneholtz, of Pullman; and Bobbi Kelly and Peggy Conrad, of Moscow; all share a history dating back to the '60s when they attended the University of Idaho together. Years later they reconnected through the Palouse Watercolor Socius. Inland 360 spoke to Saneholtz, 80, who has lived in Pullman since 1975 and is a retired realtor.
The exhibit at the barn ends Sunday. Saneholtz also will exhibit work in a show opening April 2 at the Valley Art Center in Clarkston.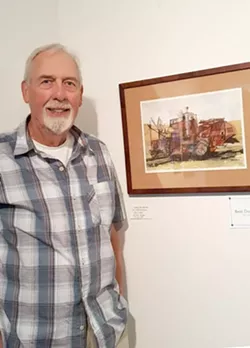 Is art a profession for you or something that you do for enjoyment?
Saneholtz: I guess I have to consider myself a professional if I'm selling some. The last 8 to 9 years since I've been retired, I have entered a lot of shows in the area and at least tried to make enough money to cover materials. I've done pretty well, but I wouldn't want to raise a family on it. It's fun to call yourself successful, to a certain degree.
What mediums do you work in?
Saneholtz: I sketched mostly all of my life, but from that I did watercolors, for the most part, and also black-and-white pen-and-inks of old barns, buildings and vehicles. I have print copies on watercolor paper of some of my ink (drawings) so I can drop color on them to make them more interesting and different. I did pastels for a while but have gone back to watercolor recently.
How did you perfect your skills?
Saneholtz: I began drawing and painting around 10 years old. I started taking lessons around 11 or 12 from an artist, and she taught me the basics. I also took lessons in watercolor from a professor at the University of Idaho when I went there. I had a lot of help along the way, just doing (art) keeps you going and helps you get better.
Why is the exhibit called "Artists with a History?"
Saneholtz: I met Conrad and Kelly in college and, when I moved back to Moscow, I found the Palouse Watercolor Socius that they were a part of. It's been 50-plus years since we first met. We took art classes from the same professors in college. All three of us became teachers, Kelly taught art, Conrad taught kindergarten, and I taught biology.
IF YOU GO WHAT: "Artists with a History." WHEN: On exhibit through Sunday. WHERE: Artisans at the Dahmen Barn, 419 N. Park Way, Uniontown. OF NOTE: Admission is by donation. Hours are 10 a.m. to 4 p.m. Thursday through Sunday.