Four generations — and two dogs — participate in Gene and Pat Lewis' antler-based business in tiny Fernwood, Idaho.


The couple create a variety of items — from ice cream scoops to pizza cutters to dog chews — using antlers they find themselves and others they purchase from shed hunters, folks who scour the woods for the antlers deer, elk and moose drop each season.


"Everything we make has antler on it," Pat Lewis said.

Montana Antler Craft West, named when it was Missoula-based before the Lewises took over the operation, will be one of 20 vendors at the Inspired by Nature show Friday through Sunday, March 31-April 2, in the Hells Canyon Grand Hotel's Seaport Inn & Suites, 701 21st St., Lewiston.


It's the fifth such show in four years organized by Randy Squires, who gathers Northwest artisans and rockhounds to display and sell their wares and finds. The free event typically draws 600-800 people, Squires said.


The common thread for the photography, painting, jewelry-making, leatherwork and other arts and crafts represented, he explained, is a "nature-related" perspective.


The Lewises craft their wares with the help of son Mike Lewis, who serves as their antler buyer, and they look forward to grandson Slyder Lewis, who lives down the street from them, joining the business. Meanwhile, their 6-year-old great-granddaughter already wants to help, and is learning to spot antlers on the forest floor.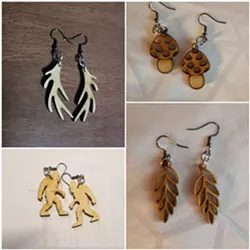 Also key to their endeavors are Bella, a chocolate Lab, and Cooper, who is "mostly" golden retriever. Bella, who's an old pro, has been teaching Cooper how to find antlers when he comes along, Pat Lewis said.


"She is 11 ½ and still loves to do it," she said.


Another Fernwood couple, Cindy and Rob Wolff, will join the Lewises at this weekend's show, with their Advanced Laser Design booth.


The Wolffs use laser cutting and engraving to create and customize products like signs, cutting boards, glassware and even earrings.


"I think it's just nice to have that little extra touch," Cindy Wolff said of the customization their business provides.


She got into laser cutting after Rob had a stroke and was unable to work.

"I started doing this so I could stay home and take care of him and still have a little bit of an income," she said.


They met the Lewises, 40-year Fernwood residents, when they moved to the town about 80 miles northeast of Lewiston 4 ½ years ago from Battle Ground, Wash., and the couples have since attended several shows together.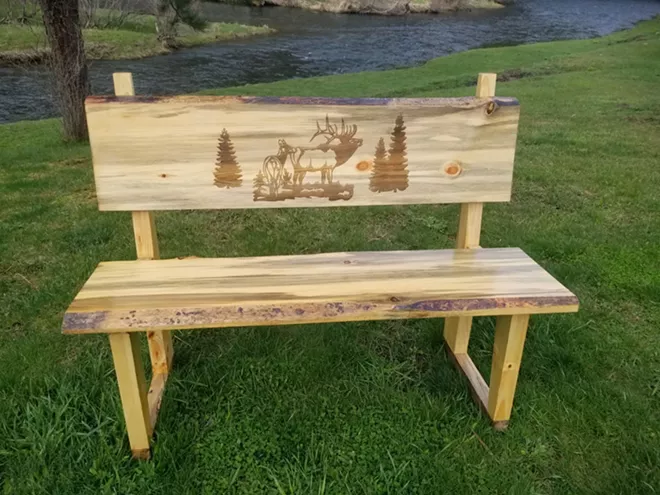 The Wolffs' lives on their 10 ½ acres at Fernwood don't just revolve around the laser engraving business: They also raise chickens and goats. Cindy Wolff apologized for being a bit distracted during a phone interview earlier this week, because one of her goats was giving birth.


A connection to the land runs through both couples' crafts.


Perhaps the marquee product at Pat and Gene Lewis' booth is their fire starter, a tool she calls essential for anyone exploring the outdoors, or even just traveling through. One customer bought keychain-sized versions for all of her grandkids to have with them when they drove to and from college over a mountain pass.


The antler-handled flint magnesium fire starters burn "26 times harder than a match," Pat Lewis said, and work well even when wet.


"It's a very good survival tool," she said, noting folks who hunt, fish and camp are frequent customers, though they could come in handy for almost anyone.


She's looking forward to sharing them and their other products in Lewiston this weekend and in April at Art Under the Elms at Lewis-Clark State College.


"We love the shows," she said. "We love meeting the people."


Stone (she/her) can be reached at mstone@inland360.com.




———
IF YOU GO


Inspired by Nature


WHEN: 10 a.m. to 5 p.m. March 31-April 1 and 10 a.m. to 4 p.m. April 2.


WHERE: Seaport Inn & Suites, Hells Canyon Grand Hotel, 701 21st St., Lewiston.


WHAT: Twenty vendors with items including stone jewelry, rock and mineral specimens, laser woodcrafts, leatherwork, nature photography,
soaps and lotions, metal art and silk bags.


COST: Free admission.