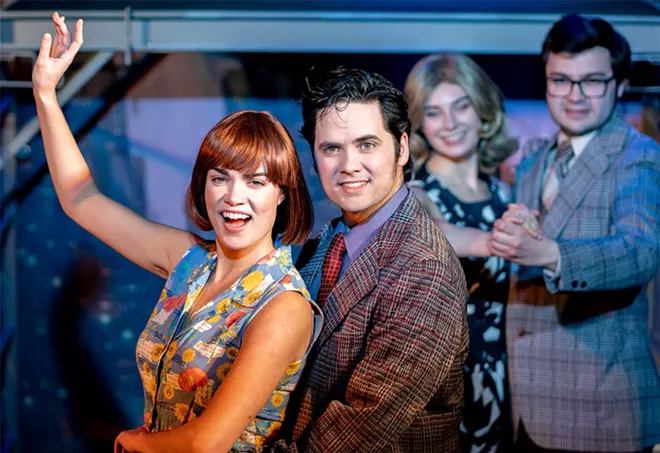 Winner of six Tony Awards and a Stephen Sondheim classic, the musical comedy "Company!" is set to grace the stage of the Regional Theatre of the Palouse starting Feb. 17.

The show revolves around Robert, a bachelor who "over the course of a series of dinners, drinks and even a wedding discovers the pros and cons of taking on a spouse," according to a news release from the theater.
The production features a variety of artists, directed by John Rich. Annjuli Dodhia serves as music director, while Rich and Petralina Rae choreographed the production. Rich said this combination of Palouse locals and out-of-town artists has brought diverse perspectives and talent to the table, allowing for an overall pleasant experience for all involved.
"That's one of our policies and goals, that we combine local talent and professionals," he said. "We have five from New York City. We have one from California and one from Montana."
Rich said he feels the theater's production of "Company!" and the musical's content is fitting for this time of year.
"First of all, it is one of the late Stephen Sondheim's classic musicals, and it's playing right now on Broadway so (audiences) don't have to go to Broadway to see it," he said. "They can see a professional production here on the Palouse. This storyline, the music, it's iconic for us, and it's a really good time of year, especially around Valentine's, because it's all about relationships and couples and dating."

——
IF YOU GO
WHAT: "Company!"
WHEN: 7:30 Feb. 17, 18, 19, 23, 24, 25, 26 and 27. Matinees are at 1:30 p.m. Feb. 19, 20, 26 and 27.
WHERE: Regional Theatre of the Palouse, 122 N. Grand Ave., Pullman.
COST: Ticket prices range from $18-$25 and can be purchased at rtoptheatre.org or by calling (509) 334-0750.