Dec. 1
POMEROY — The Blue Mountain Art Guild Art Center's Christmas show here features a pottery artist and opens with a reception from 5 to 6 p.m. Dec. 1.
The show is at the center, 745 Main St., and it features usable works in pottery by Roberta Zimmerman from Sun Lizard Studios in Dayton, Wash. Also on exhibit are works by junior artist Brandie Morgan of Pomeroy.
Hours are 10 a.m. to 5 p.m. Tuesday through Friday and 10 a.m. to 2 p.m. Saturday. The show continues through Dec. 30.
Dec. 2
CLARKSTON — The Valley Art Center here will exhibit its annual Miniature Show beginning with an opening reception from 4 to 7 p.m. Dec. 2.
The show is free and continues through Dec. 31. The reception will feature refreshments and light appetizers.
Gallery hours are 10 a.m. to 4 p.m. Tuesday through Saturday. The show continues through Dec. 31 at the center, 842 Sixth St.
Dec. 2
CLARKSTON — The 1996 comedy "Jingle All the Way" will be shown during a Holiday Flick n' Float Dec. 2 at the Asotin County Family Aquatic Center here, 1603 Dustan Loop.
Doors will open at 6:30 p.m. and the movie will start at 7. Admission is $2 per person and is limited to 130 people.
The 95-minute movie stars Arnold Schwarzenegger and Sinbad, and is rated PG.
Advance tickets may be purchased at the aquatic center and at the Lewiston Community Center, 1424 Main St.
Dec. 3
PULLMAN — The 58th annual Kiwanis Pancake Breakfast and Music Fest is 7 a.m. to noon Dec. 3 at Lincoln Middle School here.
The menu features pancakes, scrambled eggs, ham, fruit, coffee, milk, fruit juice and coffee. Cost is $7 for adults and $3 for ages 3 to 12.
The event also features live music and silent auction, and money raised will go toward the club's activities and projects.
The school is at 315 S.E. Crestview St.
Dec. 3
COLTON — The 16th annual Guardian Angel-St. Boniface School Wine & Brew Tasting is from 6 to 10:30 p.m. Dec. 3 at the school here, 306 Steptoe St.
Attendees will get six tastes of Northwest wines or three microbrews, as well as heavy hors d'oeuvres. The event also features games, and three types of auctions: dollar, silent and dessert.
Cost is $25 per person and tickets are available by calling (509) 229-3579, emailing GASBschool@colton-wa.com or online at gasbschool.org.
Dec. 3
SPALDING — The 20th annual Beadwork Bazaar at the Nez Perce National Historical Park here will be 9 a.m. to 3 p.m. Dec. 3 at the park visitor center.
The sale features a variety of crafts, beadwork, jewelry and artworks made by artists from around the region.
The visitor center is 11 miles east of Lewiston at 39063 U.S. Highway 95.
Dec. 4
LEWISTON — A "2016 Christmas Love" benefit concert given by piano and voice teachers from Lewiston and Clarkston will begin at 6:30 p.m. Dec. 4 in the Silverthorne Theater at Lewis-Clark State College here.
Concert organizers say in a news release that 90 percent of the money raised will benefit the Lewiston Civic Theatre, with the remaining funds going toward the venue rental fee.
Cost is $10 regular price, $7 for ages 3 through 12, $30 for a family and $6 for ages 60 and older.
Tickets may be purchased in advance from any Washington State Music Teachers Association piano teacher or online at www.ticketsource.us/date/306409.
Dec. 5-7
MOSCOW — The University of Idaho's three-day annual 10-Minute Play Festival commences here Dec. 5 with a slate of 14 short productions directed and performed by UI Theatre Arts students.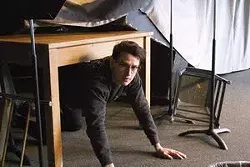 Half of the shorts were written by students in UI's College of Letters, Arts and Social Sciences.
The festival will be at 7:30 p.m. Dec. 5-7 in the Forge Theatre, 404 Sweet Ave. The event is free for UI students and $10 regular price.
Tickets are available at the door beginning 30 minutes before curtain. Some of the plays contain adult language and themes and may not be appropriate for children.
Some of the students participating include:
-- Federico Bartolo, a junior from Pittsburg, Calif., majoring in theater arts. He has two scripts featured this year: "Blinded by Pain" and "Are They Still Out There."
-- Sam Opdahl, a senior from Lewiston, directs Bartolo's "Are They Still Out There."
-- Cesar Garcia, a junior from Martinez, Calif., performs as Renzo in "Are They Still Out There?"
-- Kymber Dodd, a freshman from Boise, performs in "Don't Worry … Witches are Watching Over You."