The coming week looks a little music heavy — not that there's anything wrong with that. We've sprinkled in some books and even dessert.
May 9-11
The final production of the season for Regional Theatre of the Palouse is a musical review to be staged May 9-11 at the RTOP Theatre in downtown Pullman.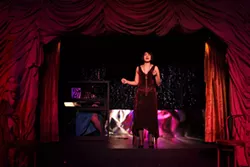 The performance times are 7:30 p.m. May 9-11, with a 1:30 p.m. matinee May 11.
"Stardust Memories" is an original stage review written by Nancy Wexler of Pullman and will feature music from the early 20th century through the World War II era. Wexler is a descendant of the Downen family, one of the pioneer families to the Palouse in the 1800s, according to a news release. The Downens helped establish what became known as Pullman, and the theater, at 122 N. Grand Ave., originally was built by the family as a storefront in the 1920s.
Performers in the revue, all from either Pullman or Moscow, are Anjuli Dodhia, Michael Todd, Tina McClure, Lacy Sutter, Kevin Keifer, Justin McClure and Garrett McClure.
Admission is $19.99 and tickets may be purchased through the theater box office at (509) 334-0750, or online at www.rtoptheatre.org.
May 10
The annual Swing Into Summer concert, featuring musicians from University of Idaho's Lionel Hamption School of Music, will be at 7:30 p.m. May 10 in the Haddock Performance Hall on the UI campus in Moscow.
The concert will feature performances by the Jazz IV Swing Band and the Chamber Jazz Choir. A reception will follow the concert.
The hall is at 1010 Blake Ave.
May 10 and 12
The Orofino Community Choir will present its spring concert May 10 and 12 at St. Theresa's Catholic Church in Orofino.
The concert, titled "It's a Grand Night for Singing," will be performed at 7 p.m. Friday and 3 p.m. Sunday. Refreshments will be served following the concerts in the church's Little Flower Room.
The church is at 446 Brown Ave.
May 11
A fundraiser dessert event is planned from 1 to 4 p.m. May 11 at the Elk City Wagon Road Museum in Clearwater.
Dessert and a beverage will be served, and donations are accepted to benefit the museum, located in the Clearwater Grange Hall, along Sally Ann Road.
The museum focuses on the late 1800s to early 1900s in the region, which featured the settling of Clearwater, Harpster and Stites, as well as construction of the Wagon Road to Elk City, for hauling supplies to mining camps, according to a news release.
May 15
Author Philip F. Beach will discuss his book, "Wheat Country Railroad," at 6 p.m. May 15 at the Center at Colfax Library, 102 S. Main St.
Beach also will give a presentation at 7 p.m. May 16 at Pullman Depot Heritage Center's Freight Room, 330 N. Grand Ave.
Beach's book, published by Washington State University Press in Pullman, gives a detailed study of the area's late 19th and early 20th century railroading, according to a news release, including the personalities and actions of Henry Villard, Charles Frances Adams, Elijah Smith, James J. Hill, Edward H. Harriman, Charles Mellen and other railroad barons.
Now retired, Beach was a political science professor for 35 years. He has published multiple articles on Washington and Idaho railroad history.
May 15
"The Salon," a free evening of readings and lessons presented by the Latah County Historical Society, begins at 5:30 p.m. May 15 at the McConnell Mansion in Moscow.
Authors Michael McGriff, Daniel Orozco and Judy Sobeloff will read from their original works. A representative of the Moscow Brewing Company will provide samples and offer a mini-lesson on beer tasting. The Ukulele Players of the Palouse will offer a short ukulele playing lesson, and Tara Lew of Tara Lew Interiors will give a brief tutorial on how to create Victorian-inspired hair art.
Light refreshments will be provided. The mansion is at 110 S. Adams St.