Nov. 3-5
MOSCOW — The Logos School production of the beloved musical "Fiddler on the Roof" continues at 7 tonight through Saturday in the school gym along West A Street here.
The musical, staged by Logos Varsity Drama, first opened on Broadway in 1964, and is set in a 1905 Russian village.
More than 30 Logos students are working on the production, and the musical is directed by Tom Garfield. The show features a live orchestra and has two acts.
Ticket prices range from $8 to $12 and they may be purchased in advance at Logos School, 110 Baker St., or at the door.
Nov. 4
CLARKSTON — The next community contra dance will be 7:30 to 9 p.m. Friday at the Twin City Square and Round Dance Center here.
Lessons for beginners start at 7 p.m. Under the Wire will play for the dance, and the band features John Mcinturff on fiddle, Greg Hodapp on concertina and banjo, David Christian on guitar and Doug Park on base. The dance caller is Timothy Daulton.
Considered a social dance, contra dance is a traditional folk dance where one can attend without a partner because participants pair up at the beginning of each new dance. All dances will be explained with participants walking through the steps before it starts, according to a news release.
Cost is $6 per person, with children admitted free. Donations are accepted.
The center is at 2130 Fifth Ave. The venue prohibits alcohol and smoking.
The event is sponsored by the Twin City Twirlers square dance club, and organizers plan to gauge interest in hopes of holding a monthly contra dance.
Info: lc-contra.com
Nov. 4
PULLMAN — The 31st annual Vocal Extravaganza at 8 p.m. Friday in Bryan Hall here will showcase the five choral ensembles in the Washington State University School of Music.
The Madrigal/Chamber Singers, Treble Choir, Tenor/Bass Choir, Concert Choir and Opera Workshop all will perform. Proceeds from an intermission bake sale will go to the student ensembles for music, performances/productions and tours.
The Madrigal/Chamber Singers will perform Renaissance madrigals that portray famous women's names of the period; the Treble Choir will perform four works about human interaction with nature; and the Tenor/Bass Choir will present five pieces, according to a news release.
The Concert Choir selections will be connected by the theme "Rhythm of Life." The singers from Opera Workshop will present portions of their production, "Princesses and Pirates: A Celebration of Gilbert and Sullivan."
Tickets cost $10 for adults, $5 for senior citizens and students with ID and free for children 12 and under. They will be available in Bryan Hall beginning at 7 p.m. on the night of the performance.
Nov. 4
LEWISTON — Watercolors by Kenneth Dola will be on display beginning Friday at Blue Lantern Coffee House & Wine Bar here, 326 Main St.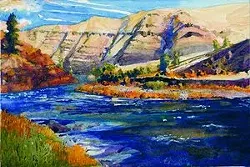 The exhibit opens with a reception from 6 to 8 p.m. Friday and continues through Dec. 1.
Complimentary light appetizers will be served, and beer and wine will be available for purchase.
Dola, an arboriculturist at the University of Idaho arboretum in Moscow, enjoys painting desert and river canyon scenes, according to a news release, and likes plein-air painting as well as studio work.
Nov. 5-6
LEWISTON — Auditions for "Spamalot," staged by the Lewiston Civic Theatre, will be held this weekend at the LCT's new office downtown here.
Auditions will be noon Saturday and 2 p.m. Sunday at the office, on the second floor at 102 New Sixth St.
"Spamalot," rated PG-13, is directed by Larry Goodwin and will be staged Jan. 26 through Feb. 12. The musical is based on the 1975 film, "Monty Python and the Holy Grail" by the revered Monty Python comedy team, and is a warped retelling of the legend of King Arthur.
Any callbacks will be in the Clarkston High School auditorium at 6 p.m. Tuesday.
Audition packets are available at the office for those who wish to audition. More information is available by calling (208) 746-3401 or emailing lctboxoffice@gmail.com.