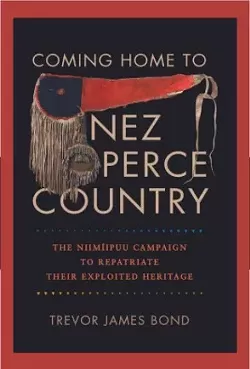 The successful effort to reclaim Nez Perce artifacts from an Ohio museum is the focus of the latest installment in the Confluence of History lecture series at the Lewiston City Library.
"Coming Home to Nez Perce Country" author Trevor Bond and Nez Perce Tribe Cultural Resources Program Director Nakia Williamson will present an illustrated talk and reading at 1 p.m. Jan. 8 on the second floor of the library and via Zoom.
Bond's book, published earlier this year by WSU Press, recounts the return of numerous items, including shirts, dresses, baskets and horse regalia, to their rightful home after they were purchased by the tribe from the Ohio Historical Society in 1996 for $608,100. The Wetxuuwiitin' Collection, formerly called the Spalding-Allen Collection, comprises items sent to a friend in Ohio in 1847 by Presbyterian missionary Henry Spalding in exchange for commodities. The Ohio organization reimbursed the tribe for the purchase earlier this year.
Online registration for the Zoom presentation is at bit.ly/32EE2ww; to reserve a seat at the library, those interested can call (208) 743-2535 or email npccurator@gmail.com.
The lecture series is a program of the library, Idaho chapter of the Lewis Clark Trail Heritage Foundation, Nez Perce County Museum, North Central Idaho Speakers Bureau and Idaho Governor's Lewis and Clark Grant for 2019-21.