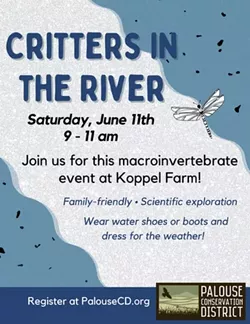 Nature enthusiasts of all ages can participate in a hands-on river education event from 9-11 a.m. Saturday, June 11, at Koppel Farm, in Pullman.


Participants will meet at 9 a.m. at the Pullman Community Garden for Critters in the River, an exploration of macroinvertebrates living in and around the South Fork of the Palouse River, according to a Palouse Conservation District news release.
Registration is on the conservation district website at bit.ly/RiverCritters.


The program begins with a discussion of local water quality and the pollutants that affect the health of the river habitat and the animals that live there, according to the news release. Participants will learn about what aquatic macroinvertebrates are — think snails, worms and crayfish — and why they're important.
Organizers will present a short tutorial on how to catch and handle aquatic macroinvertebrates after a lesson on native plant species planted along the river and the importance of the riparian habitat for native wildlife.


Nets and other identification tools will be provided. Participants who plan to enter the water should wear water shoes or waders.


Some seating is available at picnic tables at the gardens, but bringing a lawn chair or picnic blanket is recommended.