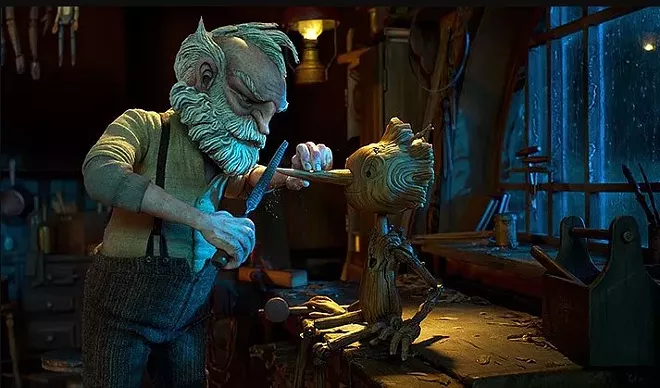 Stop-motion animation, despite its extremely labor-intensive nature, continues to thrive in the digital-centric 21st century.


Laika Studios ("Coraline," "The Boxtrolls") and Aardman Animations ("Wallace and Gromit," "Chicken Run") have kept a steady stream of stop-motion features in theaters, even if the wait between films is usually a few years. The past 12 months, though, have seen some remarkable works by top names in the medium.


The most touted of the bunch was "Guillermo del Toro's Pinocchio," co-written and co-directed by Oscar-winner del Toro, likely the most notable fantasy director of the century thus far. His horror, action and genre films all are firmly rooted in the fantastic, and he has said his version of "Pinocchio" is more interpretation than adaptation.


Del Toro gives the story a deeper emotional core than previous adaptations, and it's all packaged with his otherworldly visual flair. The setting also is altered to 20th century Italy under fascist rule and may feature the first stop-motion Mussolini armature on film. It all adds up to a welcome and fresh take on a tried-and-true tale.


"The Nightmare Before Christmas" director Henry Selick long lived in Tim Burton's shadow, but his films since "Nightmare" have exposed audiences to his own style, particularly "Coraline" in 2009.


Selick recently teamed with writer/director Jordan Peele for "Wendell and Wild," a tale with similar creep factor to "Coraline," but which takes things a step further into the surreal and comedic. The film tells the story of Kat, an orphaned ward of the state and juvenile delinquent who is transferred to an all-girls Catholic school. The school happens to be in her hometown, where she lived with her parents before their untimely deaths in a fire at her father's brewery. Low-level demons Wendell and Wild, voiced by Peele and comedic partner Keegan-Michael Key, leaven the mood with their hapless scheming to entice Kat to summon them to the Land of the Living with the promise of resurrecting her parents, though they have plans of their own.


The film touches on real-world topics, such as overcoming grief, political corruption and the problem of for-profit prisons, and showcases some of Selick's most impressive direction yet. It's equal parts drama, comedy and horror, with Selick flexing his stop-motion muscles for what may be his most exciting work to date.


Animator Phil Tippet has long been a name in the stop-motion world, winning Oscars for his work on "Return of the Jedi" and "Jurassic Park." In 1987, Tippett began work on "Mad God" after finishing his work on "Robocop 2," but dropped the project when he saw the digitized animation process on "Jurassic Park." He returned to "Mad God" 20 years later and completed it at his own studio with the help of volunteers and Kickstarter funds. The final product is a singular experience and an instant cult classic.


In a bleak dystopia, a masked character known only as "the Assassin" ventures through a world that is consuming itself, one creature at a time. Drenched in the guts and garbage of its grotesque creatures, "Mad God" features no true dialogue and a remarkable, atmospheric score. It fits well on the shelf next to the likes of "Eraserhead" and "Tetsuo the Iron Man."


Lesser-known filmmakers made a frame-by-frame splash, too. "The House," a horror anthology from Nexus Studios that premiered on Netflix last January, and "Marcel the Shell with Shoes On," a touching comedy about a talking shell, are worthy entries in the stop-motion world. Perhaps already familiar to audiences, "Marcel" is based on the 2010 animated shorts by director Dean Fleischer Camp and comedian Jenny Slate.
Thompson enjoys putting somewhat carefully chosen words in relatively meaningful order. He lives in Lewiston and is on Instagram as @theswap_quadcities and can be reached via email at lcvrecordswap@gmail.com. He has been to college.