People with autism have an important role in making the world a better place — Temple Grandin has modeled this message with her own life.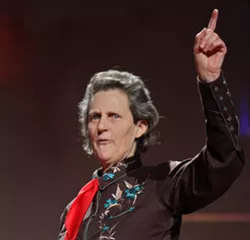 Grandin has made widespread improvements in humane livestock handling and credits much of her success to what some considered a disability — her autism. Grandin is speaking at a sold-out event Wednesday in Clarkston through the Green Apple Speaker series.
Born in 1947, before much was known about autism, Grandin's mother refused to have her institutionalized as doctors recommended. Instead, Grandin was pushed to reach her full potential and given access to therapists and educators. She went on to bring major changes to the cattle industry -- around half the cattle in North America are handled at facilities she has designed.
A professor of animal science at Colorado State University and consultant for livestock handling equipment design and animal welfare, Grandin is also a spokesperson for autism. Her story is portrayed in the Emmy award-winning HBO movie, "Temple Grandin."
Some of the quotes and ideas she is known for include:
"I am different, not less."
Grandin is an advocate for appreciating "differently-abled brains." She doesn't follow social norms and algebra stumps her, but her mind proved highly capable -- she earned a doctorate degree in animal science.
"Social thinking skills must be directly taught to children and adults with Autism Spectrum Disorder."
Grandin believes that children and adults with autism must be given high, reasonable expectations. On her website Grandin says that those with autism need to be slowly and carefully stretched to learn work, life and social skills so they are able to reach their full potential.
"Nature is cruel, but we don't have to be."
Grandin's contributions to the livestock handling world include designing curved loading chutes and a center-track restrainer system, according to an article by National Geographic. Curved chutes keep cows calm because they can't see what's coming and it plays to their circling instinct. The restraint system lifts a cow up by its belly, holding it steady for slaughter and minimizing trauma.
"My advice is: You always have to keep persevering."
Grandin worked for humane changes in the livestock industry for 20 years before she saw meaningful results. The biggest change happened in 1997, according to National Geographic, when McDonald's hired her to improve animal welfare. The new standards imposed by the company positively affected much of the industry.
"If I could snap my fingers and be non-autistic, I would not. Autism is part of what I am."
Grandin firmly believes in the high value that those with autism add to society and seeks to support them to maximize their potential.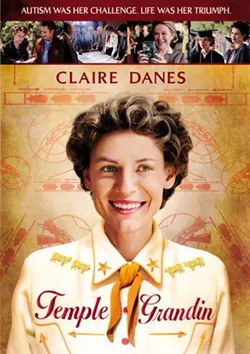 WATCH:
"Temple Grandin" (2010) HBO
Available on: Amazon, Google Play, iTunes
READ:
"Emergence: Labeled Autistic" (1996)
"The Way I See It: A Personal Look at Autism & Asperger's" (2015)
"Thinking in Pictures: My Life with Autism" (2006)
"The Autistic Brain: Helping Different Kinds of Minds Succeed" (2014)
"Animals in Translation: Using the Mysteries of Autism to Decode Animal Behavior" (2006)
"Animals Make us Human: Creating the Best Life for Animals" (2010)