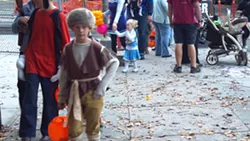 Halloween festivities are brewing in the Quad Cities this weekend. Here's Inland 360's top picks for the week leading up to Halloween for big kids and little ones.
FIVE PICKS FOR BIGGER KIDS 1. Hogan's 51st annual Halloween Party 10 p.m. Saturday, Oct. 26, Clarkston Hogan's Halloween Party is legendary for its hip costumed revelers. This year's event features the Lewiston-Clarkston Valley band Astronaut and The Trees, and Those Bones bringing danceable grooves down from the Palouse. Even the bands will be in costume at this age 21 and older party. Admission is $5 at 906 Sixth St.
2. Halloween Party at the Moscow Moose Lodge 8 p.m. Saturday, Oct. 26, Moscow Halloween costumes are encouraged at this 21 and older event. The four-piece guitar-driven Moscow band Bare Wires will play live music. No cover charge, 210 N. Main St.
3. Autumn Arts And Crafts Festival Friday and Saturday, Oct. 25-26, Pullman If scary isn't your thing enjoy the shift in seasons at the region's largest artisan fair held annually at Washington State University's Beasley Coliseum. Fine arts, crafts and food vendors come from around the Pacific Northwest with one-of-a-kind items. Hours are 10 a.m. to 8 p.m. Friday and 9 a.m. to 5 p.m. Saturday. Admission is free.
4. The Rocky Horror Picture Show Experience The cult classic film "The Rocky Horror Picture Show" is a Halloween tradition across the country. You can take part in Moscow or Lewiston. There will be two showings Saturday, Oct. 26 at the Lewiston Civic Theatre for ages 17 and older. Props are included. Doors open at 6 p.m. for the 7 p.m. showing. Tickets are $30. Doors open at 11 p.m. for the midnight showing. Admission is $25. Tickets should be purchased in advance at lctheatre.org. Moscow's showing is at midnight Monday, Oct. 28 at the Kenworthy Performing Arts Centre, 508 S. Main St. Admission is $3.
5. Haunted Houses Two haunted attractions are available for thrill seekers this season. In Lewiston the Nightmare on Grelle Avenue haunted mansion is open 6 to 10 p.m. Friday and Saturday, Oct. 25-26, and on Halloween at 2621 Grelle Ave., Lewiston. Admission is $12. In Palouse the town goes all out for Haunted Palouse. No one younger than age 12 is admitted. Tickets are $15 and are sold from 7 to 10 p.m. in the drive-through area of AmericanWest Bank, Palouse Branch.
SIX PICKS FOR KIDS AND FAMILIES
1. Zombiefest 3:30 to 5 p.m. Thursday, Oct. 24, Colfax It's a zombie invasion today at the Whitman County Library in Colfax. Grades sixth through eighth are invited to learn zombie defense training, play walking dead games, eat zombie-licious treats and craft a dead-on zombie costume. Admission is free.
2. Sixth annual Animals of the Night 5 to 8 p.m. Friday, Oct. 25, Moscow Costumes are encouraged for this event where families explore the trails of the Palouse Clearwater Environmental Institute's Nature Center learning about nocturnal animals like bats, wolves and raccoons from local experts. Live animals, free snacks, games, crafts and storytelling are also featured. Kids younger than 3 are admitted free, other children $4, adults $6, 1040 Rodeo Drive.
3. Drive-In Theatre — Scary Movie Night 7 to 11 p.m. Friday, Oct. 25, Lewiston Concessions, popcorn, candy and costumes are all part of this night at the movies in the Lewis-Clark State College parking lot on he corner of 11th Avenue and Fourth Street. The movie "Coraline" (PG) starts at 7 p.m. and will be followed by "Drag Me to Hell" (PG-13). The event is sponsored by the LCSC Business Student Organization.
4. Pumpkin Palooza Noon to 4 p.m. Saturday, Oct. 26, Lewiston For the first time Lewiston is combining Downtown Trick or Treat with the fall festival Pumpkin Palooza, which includes the Great Fifth Street Pumpkin Roll contest, a chili cook-off, live music, a pumpkin art auction and free activities like face painting, stories, crafts and a jumping castle for kids. A costume contest includes categories for ages 14 and younger, 15 and older, groups and animals. Activities will take place throughout downtown.
5. Halloween Hoopla Dance Performance 7:30 p.m. Saturday, Oct. 26, Lewiston Contemporary dancers, tap dancers, belly dancers and zombies will all take the stage when area dance groups present a Halloween-inspired show in the Silverthorne Theater on the Lewis-Clark State College campus. Groups are Effusio Dance Theater of Lewiston, Yogatopia yoga studio of Pullman, students from the LCSC contemporary dance class, and Footnotes Dance Studio of Lewiston. Admission is free. Donations will be accepted.
6. Boo Bash at the Asotin County Family Aquatic Center in Clarkston 6 to 8 p.m. Sunday, Oct. 27, Clarkston Games, tricks and treats, a spooky house and a costume contest at 7 p.m. are all part of Boo Bash. All ages are welcome. Admission is $3.50 for children, free for adults.
Check the Inland 360 calendar listings for more events.