Seattle gamers thrust into a real alternate reality; a book about how to live; and fictional stories about the true lives of first responders are the subjects of three new books by Quad-cities authors.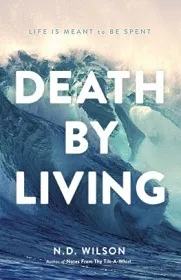 "Death by Living" by N.D. Wilson
In "Death by Living" (W Publishing Group, 208 pages) Moscow author N.D. Wilson departs from his bestselling young adult fantasy and adventure novels to contemplate the short ride we're all on called life.
In a modern and poetic way Wilson charts the course of his life against the backdrop of Christian theology that informs it. The book is a follow-up to Wilson's 2009 "Notes From The Tilt-A-Whirl: Wide-Eyed Wonder in God's Spoken World," which presented a way of seeing life. "Death by Living" is about how to live life. He compares each life to a story fueled by the countless narratives of ancestors. Each author has the conscious choice to shape their tale. "If time is a river, may you leave a wake," he writes.
Wilson lives in his hometown of Moscow with his wife and five children. He is a Fellow of Literature at New Saint Andrews College and the author of the "100 Cupboards" trilogy and the "Ashtown Burials" series. His writing has been featured on NBC's "Today" show and NPR's "All Things Considered."
"Fearfully Made" by D.E. Aston
When a catastrophic flash shatters a backyard pool party in Seattle a group of men and women are left facing a vortex to a medieval landscape.
Being experienced online gamers they are not unprepared to face the alternate reality of the novel "Fearfully Made," by David (Eric) Aston. Aston, 40, a professor of chemical and materials engineering at the University of Idaho, weaves science into fantasy when he sees fit in his self-published book.
The Lewiston native says he often finds science fiction too limiting and fantasy lacking in science. "I think I lean more toward philosophical rather than scientific indulgences," Aston says. "Fearfully Made" (West Bow Press, 273 pages) is the prequel to his Ellari Invasions series. He's working on the next installment. The book is available at BookPeople in Moscow, And Books Too in Clarkston, His Story Christian Gift Center in Lewiston and online.
"Ocean View" by Grayson Michaels
Television is ripe with stories about police officers and firefighters but the true realities of the job are rarely depicted, says third generation firefighter Dana Gludt, 29, of Clarkston.
Writing under the pseudonym Grayson Michaels, Gludt has self-published the novel "Ocean View" (Raven Scriptures Publishing, 448 pages) that follows a group of fictional police officers, emergency medical technicians and firefighters in a series of short stories. Events and people in the book are fictional. The biggest misconception people have about firefighters is "that we don't do anything," Gludt says. "They don't understand the mental preparedness, training, sleepless nights and time away from family."
Gludt will sign copies of his book from 3 to 7 p.m. Thursday, Aug. 1 at And Books Too, 918 Sixth St., Clarkston. The book is also available at Hastings in Lewiston, online and in a Kindle version.