Three sendoffs, one retroactive, are at the heart of a Washington State University School of Music jazz concert Tuesday, April 19.


"End of an Era" features guest percussionist, composer and professor emeritus David Jarvis, who retired in 2020, performing with WSU Big Band II, directed by saxophonist, composer and jazz studies professor Horace Alexander Young, whose career at WSU will come to a close in May.
The school's award-winning Jazz Big Band will be directed by saxophonist, composer and Regents professor Greg Yasinitsky, also saying goodbye to his official WSU duties with a May retirement.


The concert includes music the groups were set to present in 2020, when COVID-19 protocols shut down live performances. It's also a chance to honor Jarvis, who Yasinitsky lamented, was denied a proper retirement sendoff because of the pandemic.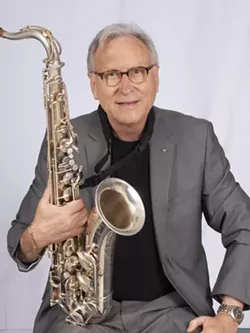 "We're bringing him back for this concert," Yasinitsky said, noting Jarvis moved to Hawaii after retiring.


Jarvis served as WSU's coordinator of percussion activities for 33 years, receiving the College of Arts and Sciences Outstanding Career Achievement Award in his final year at the university, according to a news release. His music is widely published and performed internationally, and he is a co-founder of the Dozier-Jarvis Trio, well-known to jazz fans on the Palouse.


Young, a multi-instrumentalist (woodwinds, keyboards and percussion), vocal musician and composer/arranger, performed internationally for 17 years with National Endowment for the Arts Jazz Master Abdullah Ibrahim. His career has spanned 19 countries across five continents with jazz festivals in places such as London, Paris, The Hague, Berlin, New York, New Orleans, Tokyo, Cape Town and Glasgow, and he has performed with Aretha Franklin, McCoy Tyner, B.B. King, Bill Withers, James Brown and Patti LaBelle.


Yasinitsky said he expects to stay involved with music alongside his wife, Ann Marie, who retired a few years ago after about 25 years as a WSU flute professor and plays with the Washington Idaho Symphony.


They are involved with Summerfest in McCall, for which he has been commissioned to write a piece in celebration of the event's 10th anniversary.


"The joke is I'm going to keep doing what I've been doing, except not go to faculty meetings," he said.


Yasinitsky, whose awards include the American Prize for Orchestral Composition and WSU's Eminent Faculty Award, is one of the most published composers in jazz, with hundreds of pieces performed in 40 countries. He served as director and composer for the renowned Jazz Education Network All Stars Big Band and has performed with the likes of Ella Fitzgerald, Ray Charles, Sarah Vaughn, Lou Rawls and Lionel Hampton. As jazz studies coordinator, he led WSU's program to national recognition, top awards at major festivals, invitations to perform at prestigious conferences and critically acclaimed recordings.


"I've worked with so many wonderfully talented students," Yasinitsky said. "It's the greatest job in the world to work with talented young people."


The free concert also will be livestreamed on the WSU Pullman Music YouTube Channel at youtube.com/wsupullmanmusic.


Stone (she/her) can be contacted at inland360.com.
———

IF YOU GO
WHAT: "End of an Era" jazz concert.
WHEN: 7:30 p.m. Tuesday, April 19.
WHERE: Bryan Hall Theatre, 605 Veterans Way, Pullman; and online at youtube.com/wsupullmanmusic.
COST: Free.