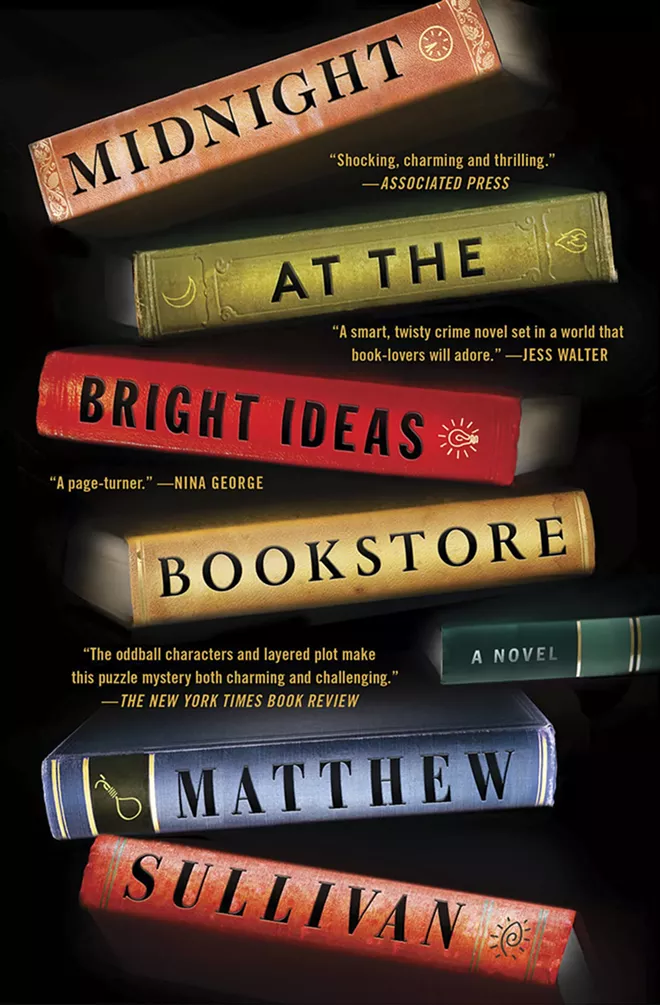 Mystery author Matthew Sullivan will bring readers together this year for the Everybody Reads program, albeit virtually, after the COVID-19 pandemic scuttled last year's event.
The program that has people in the Lewiston-Clarkston Valley and Palouse area reading and discussing the same book, including conversations led by the chosen book's author, began in 2000, according to the organization's website at everybody-reads.org.
Sullivan's featured work, "Midnight at the Bright Ideas Bookstore," is about a mystery that takes place in an independent bookstore.
"It's largely an homage to books, people who love books and people who sell books," he said. "Kind of wrapped up with some other ideas about crime and the impact it can have on people's lives."
The program, which last took place in 2019, is back this year — online, said Dan Owens, adult services librarian at Neill Public Library in Pullman. Local appearances by Sullivan across the Palouse and Lewiston-Clarkston Valley were canceled and moved to the virtual format because of COVID-19.
"With all the complexity and uncertainty, we decided to do it online," Owens said. "We're glad to still be able to do it this year, but it's been disappointing to not be able to bring everyone together in person."
The program has featured authors from a range of genres, including Anthony Doerr who won the 2015 Pulitzer Prize for fiction with his book "All the Light We Cannot See."
Owens says he's thrilled to have a mystery novel for the program this year, especially from an author with connections to the Palouse and the greater Pacific Northwest.
After notching a Bachelor of Arts degree from the University of San Francisco, Sullivan earned his Master of Fine Arts from the University of Idaho. He's since taught writing at colleges in Boston, Poland and Idaho.
"I'm excited the community will get to learn from a published author and also from someone who knows how to teach," Owens said.
Sullivan's debut novel, "Midnight at the Bright Ideas Bookstore" begins rather darkly when a patron dies from suicide in a bookstore.
The troubling incident allows the main character, bookstore clerk Lydia Smith, to explore her own violent past as she unravels the mystery of the suicide.
"Through a series of books left behind for her by the person who committed suicide, she was able to uncover some things that happened in her past that she thought she had been able to get away from," Sullivan said.
He worked at the Tattered Cover Book Store in Colorado for five years when he was in his 20s, and it's where he drew inspiration for the plot.
"It's very much based on the Tattered Cover, which is kind of an institution in Denver," he said. "They've got several different locations, and it's one of those bookstores, a little bit like Powell's Books in Portland, where when you go to a particular city, and, if you're a book lover, you make your way to that bookstore."
Few of the mystery aspects of the novel are based on actual events, Sullivan said; however there are some overlaps with true crime.
He'll conduct two writing workshops online, including a class for teenagers about conflict and the fundamentals of storytelling. Author readings and community conversations are set for noon Tuesday (Nov. 2) and at 7 p.m. next Thursday (Nov. 4).
"I think for a lot of young people, it's really hard to find places with creative outlets," he said. "The more we can do as a culture to give them avenues to explore their creativity can have lasting, lifelong effects."
Libraries and other public spaces where people gather to discuss books and ideas are invaluable to a community, he said.
Programs like Everybody Reads, albeit virtually this year, also help bring people together.
"It's such an absolute honor to have created something that's kind of at the center of a community discussion," he said. "They're just such important programs. And it's really great to see it happening, even with the pandemic and all the difficulties that has brought."
Palermo can be reached at apalermo@dnews.com or on Twitter @apalermotweets.