The human body is often viewed as a marvel of evolution, but in many ways, it fails to live up to such expectations. Lewis-Clark State College professor Alex Bezzerides explores the ways our bodies fall short — crooked teeth, nearsightedness, back pain — in his book "Evolution Gone Wrong," first published by HarperCollins in 2021 and out now in paperback.


Bezzerides, who moved to Lewiston in 2009 and worked his way through the ranks at the college to become a tenured professor, teaches anatomy and physiology to pre-nursing students and biology for students planning to go into more specialized fields, such as dentistry, physical therapy and wildlife biology.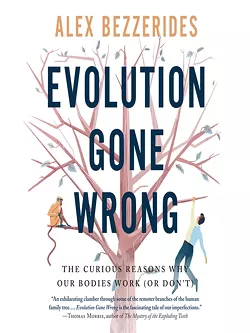 Josh Tatko: What spurred you to write this book?


Alex Bezzerides: It was born of experiences I had in the classroom, teaching. I remember in class one time, I showed this textbook picture of the human mouth with the teeth all fitting perfectly, but then I asked the class, "How many of you have that mouth? How many of you have had wisdom teeth pulled, or have had braces, or your teeth don't fit perfectly into your mouth?" It was a big class — 60 to 70 kids — and there were only about three students whose teeth fit well into their mouths.


We started talking about that as a class, and I didn't really have a good answer for that. So I started reading about the research around why our teeth don't fit into our jaw, and the answers are really interesting and complicated.


So I started to write a bit about it to kind of solidify my thoughts on it, and once I had that done, I started to think, "Are there other topics like this where things don't work as well as you might expect?" And that led me to eyes. Then I started just moving around the body, and that put me on the path that eventually became the book.


JT: Did the topics you researched spring naturally from your teaching and study?


AB: Yeah, I'm a big believer in diving into the primary literature and finding the most modern research on subjects. I have files and files of primary literature from scientific journals that are the basis of the book. I kind of went into each chapter with the idea of the story I would tell, but then I had to figure out how to coalesce all the research and make it interesting and readable, so I had to go through and find the pieces that I could present in a way everyone could understand. And that was the hard part: making it interesting but also accessible.


JT: Would you say the book is targeted toward a general audience?


AB: I tried to write it very much toward a general audience. I describe it to people as a book about the aches and pains of the body and how they came to be. So there's a little something in there for everyone. If you have a sore lower back, this will explain why that happens to so many humans. There's a whole section on reproduction, so if someone has had difficulties with fertility, or with a difficult pregnancy or birth, it outlines why we as humans have those problems and difficulties.


I try to stress to people whenever I can that it's not a textbook. It's for anyone and everyone, and I hope that everybody that reads it is able to get something out of it. Some people may need it packaged in a different way to be more engaging, and that's why I really wanted to have some illustrations, which are done by a friend.


JT: Do you have any examples of "evolution gone wrong" that didn't make it into the book?


AB: There were a few topics that got left on the shelf. One of them is the human sinuses. Humans have unique sinuses that are pretty infection-prone, and I had started to outline a chapter about them that didn't make the cut. The others that come to mind are the tonsils and the appendix. I had some ideas about both those topics, but I felt the appendix was pretty well covered in other books and areas, and I was limited in word count to about 90,000 words.
Tatko, a news clerk at the Lewiston Tribune, can be reached at jtatko@lmtribune.com.
———

IF YOU GO
WHO: Alex Bezzerides
WHAT: Author talk/book signing.
WHEN: 5:30 p.m., Wednesday, April 26.
WHERE: Asotin County Library, 417 Sycamore St.
OF NOTE: More than 10,000 copies of the book have been sold, including hardback, ebook and audiobook formats. Books will be available for purchase from local bookseller And Books, Too. Hardback: $38; paperback: $23.