By Michelle Schmidt • Inland360.com
It's time to bundle up and head outdoors before autumn's reds and yellows turn to winter's browns and grays. Finding a multicolor maple leaf or a chirping chickadee needs only curiosity and your five senses. An added bonus? A place to do the looking. The Lewiston Wildlife Habitat Area is one of those places. The 5-acre habitat is a conservation area designed to draw wildlife. It's managed by Idaho Fish and Game. "It's not a park, it's a wildlife habitat area," said Dwight Kilgore, habitat area manager. "It's the only place in Lewiston or Clarkston like it." The tucked-away in-town location is perfect for sensory exploration, and if you're quiet, chances are you'll see rabbits, owls or other wildlife. You don't have to be in Lewiston to do this hunt. A list of other places to go can be found below.
While you're walking, look for the following fall-time items:
1. Berries Berries do more than provide winter color, they're food for birds that winter in the area. If you look for blue juniper berries and red bearberries, chances are you'll find a few colors in between. Remember that while many berries are edible, just because birds eat them doesn't mean you should.
2. Fall Aster Reds and yellows are easy to find this time of year — but purple? The aster is the season's last flower, which is exactly why it has been planted in the wildlife habitat area. It's the last bloom that butterflies, bees and hoverflies get to enjoy before the long, cold winter.
3. Rose Hip
None of the native roses at the habitat area were planted there — they grew all on their own, probably from a seed in bird droppings. And if you're looking for birds, they're the plant you want to find. Because birds have to be able to see in every direction, native roses are an ideal hang out: They can perch at the top of the branches to sing and play, then dive into the thorny bush if they see danger coming.
4. Hazelnut Catkin The hazelnut is a smaller tree with wide-stretching branches. As the last of the leaves fall off the tree, you'll notice there's something that hangs on: a catkin. The catkin is the male part of the tree. It stays on through winter until the female part appears in the spring.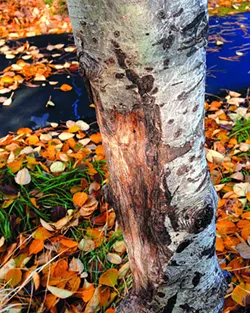 5. Deer markings
Even if you don't see deer in the habitat area, you'll be able to tell that they were there. When deer rub their antlers on trees without a hard bark, the cambium layer — the part between the bark and the wood — is damaged. The soft-barked aspen bears markings, while the nearby hard-barked cottonwood appears untouched.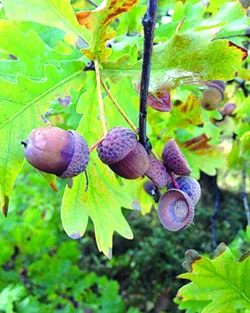 6. Acorns
Acorns come from oak trees, and there are more than four varieties of oaks in the habitat area. Look for acorns and leaves of different shapes, sizes and colors. If you stick around long enough, you might spot a duck or rabbit nibbling on this fall-time snack.
7. Leaves The most obvious object to find this time of year are leaves of vivid reds, yellows and everything in between. Look for various colors, leaf shapes and coloring patterns. While you're at it, take time to notice the trees whose leaves aren't turning color — the evergreens. Invite all your senses to the party: feel the difference between the prickly spruce and smooth-scaled cedar. Gently pick a few needles, bend or crush them and smell the difference.
Family-Friendly Fall Walks Fall-time treasures aren't only found in the Lewiston Wildlife Habitat Area. If you're looking for more than just a stroll around the neighborhood, head to one of these locations to explore similar items on this list:
-- Lewiston Wildlife Habitat Area is accessible by a gravel parking lot off Warner Avenue adjacent to the Idaho Department of Fish and Game Office at 3316 16th St. in Lewiston.
-- University of Idaho Arboretum at 1200 W. Palouse Drive in Moscow;
-- Palouse-Clearwater Environmental Institute at 1040 Rodeo Drive in Moscow;
--Kamiak Butte County Park off Highway 27, north of Pullman. Turn onto Clear Creek Road, left on Fugate Road, then left onto Kamiak Butte County Park Road;
-- Modie Park at 1035 21st Ave. in Lewiston. Schmidt can be contacted at themichelleschmidt@gmail.com or at (208)305-4578.