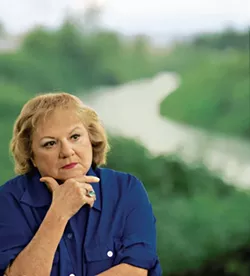 True crime writer Ann Rule died at age 83 this week in Seattle. Considered by many to be the mother of the genre, since 1969 Rule published some 33 books about some of the most despised killers in modern America. But she didn't just write about the criminal and his or her heinous acts, she wrote about the victims, families, police, lawyers and others swept up into events.
Several of Rule's books explored Northwest crimes, beginning with her break-out "The Stranger Beside Me," on Ted Bundy, who she knew. Others included "Green River Running Red: The Real Story of the Green River Killer - America's Deadliest Serial Murderer;" and "Heart Full of Lies: A True Story about Desire and Death," about Liysa Northon's October 2000 killing of her then-husband, Chris Northon, at a campsite on the Lostine River in Wallowa County.
In 2005, Inland 360 reporter Jennifer Bauer interviewed Rule who was on tour for "Green River Running Red," about serial murderer Gary Ridgway whose crimes took place near her home. He also came to her readings. Here's the 2005 story from the archives.
"Fear not: A rule to live by" by Jennifer K. Bauer
When Ann Rule started writing about true crime, she decided she would not live in fear of the killers she examined.The former Seattle police officer became a national best-selling author for a investigative career that has included Ted Bundy -- who worked with her at a Seattle crisis line -- and the Green River killer -- who came to her readings.
"I don't think all the time about being afraid," says Rule, who is in her late 60s but declines to give her exact age. If fear does cross her mind, it is when someone she wrote about gets out of jail. After 25 years of writing that happens, she says in a telephone interview.
"It gives me some pause, but basically I'm no more afraid than if I was writing fiction. I also have three 6-foot sons who come by often to borrow money."
She admits she takes precautions ordinary people don't.
"My address is not easy to find. I'm not listed in the phone book, except for my office number. I live in a pretty inaccessible area with a good security system. I have dogs and I have a gun.
In 1982, when 16-year-old Wendy Lee Coffield was found strangled in the Green River, Rule was raising her five children nearby in the south end of King County, Wash. The case would grow to include the names of 47 other young women Gary Ridgway admitted killing.
The case was literally close to home. More bodies were found close to her home. Rule saved everything on the case for 22 years and published "Green River, Running Red" in late 2004, a few years after Ridgway was finally arrested and convicted. Publisher's Weekly called the book another validation of Rule's "standing as one of the preeminent chroniclers of the modern serial killer."
"I don't know if I'll ever want to do another serial murder book," says Rule, speaking in a phone interview from her home outside Seattle. "I've done five now and that might be my limit."There was an emotional toll for spending a year focusing on the loss of 48 women. In her book Rule argues the number is higher, 71 or more.
"I was so sad at the end of the year. ... My body probably absorbed a lot of that. I wouldn't want it to not affect me. It's very important that it does affect me. It can sneak up on you."
Rule's books do not probe the grisly details of crimes. Instead she traces the histories and trajectories of those involved -- not only the killer and the victims but the detectives and all the families.
The Green River killer targeted young women who mostly worked as prostitutes. He called them garbage.
"There was a tendency by TV and news coverage that they became just mug shots and a list of names. I've heard a lot of ordinary citizens say 'They're just prostitutes.'... I try to show these young women as real human beings. They were desperate and poor. Life was better on the street than at home. Sometimes they were just hungry. In some cases they started to get out and then met (Ridgway)."
Rule stays in touch with her fans, who often provide her information on cases and story ideas -- she guesses her last eight to 10 books came from readers. She tries to answer every e-mail, but because of the large volume, recently started a Web log at her site www.annrules.com where she answers common questions and chats almost daily about the latest crime headlines, gardening, her many pets and personal safety.
Rule maintains true crime fans are the kindest people, and not just because they have given her 22 New York Times best sellers.
"It's true. I have spoken and signed at hundreds of places over the years and my readers are the gentlest people I have run into. ... In the main my dedicated readers are female. I think women are fascinated by what causes criminal behavior and cruel behavior. They want to know how they can stop it, how they can fix it." -Published March 18, 2005 in the Lewiston Tribune