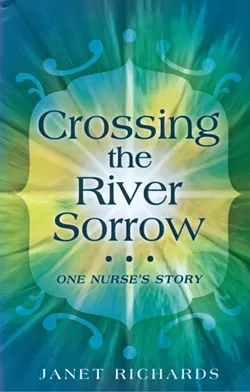 Nurses toil on the frontiers of human pain and suffering.
In their duties, they will accompany many of us through life-altering moments — when unexpected news is delivered, when aid is required, when the last breath is drawn.
"Crossing the River Sorrow," (WestBow Press, 2013), by Janet Richards of Moscow, is one woman's story of how her career as a nurse led her on a personal search for answers to the question of human suffering.
Richards charts her path from sheltered childhood to a career in medicine, which led her into situations ranging from the front lines of intensive care trauma units to home health, where she never knew what kind of environment she was walking into. She learned the lesson of mother-as-nurse raising a child with a chronic illness. Getting older, she faced the question of nurse-as-patient. Facing death head-on, she found answers in her Christian upbringing, the most important being that in our brokenness we are the same and our biggest failure would be to not love enough.
Excerpts from the book have been published in the American Journal of Nursing and online at NPR's "This I Believe." Richards will sign copies of her book from noon to 3 p.m. Saturday, Oct. 5, at His Story Christian Gift Center, 1702 21st St., Lewiston; and at 6 p.m. Oct. 19 at BookPeople, 521 S. Main St., Moscow.