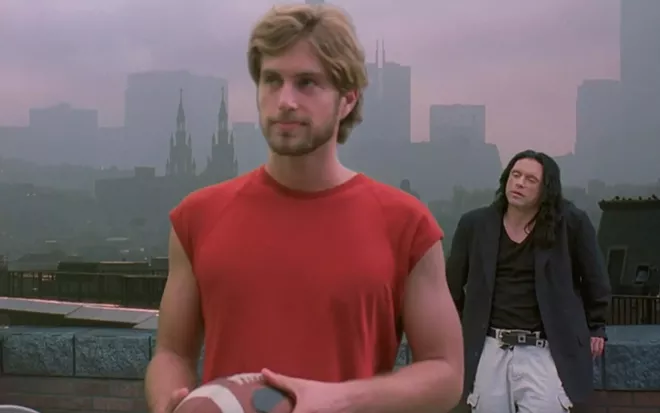 "Oh hi, Mark."


Audiences will be listening for this now-iconic quote during a screening of "The Room" at the Palouse Cult Film Revival next week. And they'll get the chance to discuss it and other so-bad-they're-good moments during a Q&A with actor Greg Sestero, who plays Mark in the film.


The movie will be shown as part of the Palouse Cult Film Revival at 6 p.m. Feb. 11 at the Best Western Plus University Inn, in Moscow. Sestero also will be on hand for a screening of and Q&A about his newest project, a horror film about a cult, "Miracle Valley," at 6 p.m. Feb. 10.


"The Room" gained cult status, after its 2003 release, for being "the 'Citizen Kane' of bad films." Sestero became involved with the movie after meeting Tommy Wiseau in an acting class in San Francisco. Wiseau then wrote, directed and starred in "The Room" with Sestero.


"We struck up a friendship, which is funny because we're just so different in every conceivable way, yet we met in acting class," Sestero said. "It's a different experience because everyone is there for their own creative purposes."


Sestero's time filming "The Room" inspired him to write the book "The Disaster Artist," which was turned into a movie in 2017. He also teamed up with Wiseau for the movie "Best F(r)iends," which he showed at the Palouse Cult Film Festival in 2019.
Sestero is currently working on a UFO abduction film called "Forbidden Sky" and a social-media thriller,"Most Dangerous Game," about cyberstalking.
For fans of "The Room," the screening at the Palouse Cult Film Revival is the best opportunity to see the film, because it's not available on streaming.


"I always wanted to do something up in Idaho, so it was a great opportunity," he said of being a part of the Moscow event in 2019. "I really love Idaho in general."


Sestero's dad is from Boise, so he spent time in the state growing up and visiting McCall, Coeur d'Alene, Hailey and Ketchum.


He talked with Inland 360 by phone about "The Room" and the Palouse Cult Film Revival:
Inland 360: You are planning to attend the Palouse Cult Film Revival. What are you doing there and how did you get involved?


Greg Sestero: (In 2019) I showed the new film that I had made called "Best F(r)iends" that was released by Lionsgate, and I told everybody I'm going to be making a new horror film, and when that's done I will come screen it … . Then 2020 happened, so now it's great to be able to come up there (again).


(In 2019) It was a chance to be a part of the festival that Eric (Billings) runs, so I became friends with him as well. I know they've shown "The Room" in past years. I guess it had gotten a pretty big following, and so it was a chance to show the new film and do an anniversary screening as well.
Inland 360: When did you realize that "The Room" had become a cult classic?


GS: It was like 2010 when we went to New York, did a screening at the Ziegfeld Theatre and it was the first movie to sell out the Ziegfeld Theatre since the re-release of "Star Wars." And at that point I was like "There's really something unique here," and that's where I got the idea to write the book.
Inland 360: Do you have any ideas or theories about why it has achieved cult status?


GS: I think there's nothing else like it. It was one man who had creative vision, who had total creative control and saw the world in a totally different way … . It's an incredibly original movie, especially with a crowd, so that's why it's so great to do a live screening, because people walk away from it and it's like the most unique experience they've ever had in a movie theater.
Inland 360: Is there a particular fan experience that stands out to you?


GS: I think it's really cool that people have met at a screening or maybe got married and made it a part of their wedding and made it a part of their life … . It's really about bringing people together, and that's why it's cool to continue to make new films and give your audience something new and something to look forward to. So that's why it was great that we made "Best F(r)iends," and now we also get to screen "Miracle Valley" at the Palouse Cult Film Revival as well, which comes out later this year. It's a really fun way to celebrate 20 years of "The Room."
Inland 360: Does being a part of the cult community give you a better understanding or appreciation of underdogs and misfits?


GS: I think it goes to show there's a lot of different avenues of film that people respond to. It's very surprising to me that people enjoyed "The Room," and it's lasted for 20 years. It's a great lesson to kind of put away your judgment and understanding of the things you know.


Brewster may be contacted at kbrewster@lmtribune.com or at (208) 848-2297.

——————