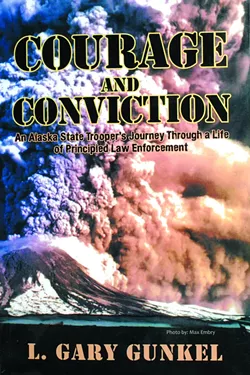 U.S. Marine, Anchorage city policeman, Alaska state trooper and sheriff of Asotin County are a few of the titles Clarkston's Gary Gunkel has answered to. His self-published book "Courage and Conviction," is about his family's life and his experiences in law enforcement.
Gunkel, 72, worked as a law enforcement officer in Alaska in the 1970s.
"It was a whole lot more dangerous than on the surface," he says.
Gunkel's patrol area was 200 miles. His wife monitored the radio back at home. If he needed back-up it could be there in two days, "if the weather was good."
Holidays were nonexistent. There was no overtime pay. Work days averaged 11-16 hours, or "until you just got tired of answering calls. You got the emergencies out of the way."
He credits excellent training for his success at the job. With back-up two days away a technique like "the sleeper hold," which renders an assailant unconscious, was crucial.
Gunkel was elected Asotin County sheriff from 1983-1986. He took over a small staff with no jail. People were sent to Colfax, Pomeroy or Spokane for incarceration and brought back for arraignments. One of the things he was proud to accomplish during his term was an active Block Watch program where citizens reported unusual activity to the police.
"No one's going to do something in front of a uniformed officer," Gunkel says of the logic of using citizen informants.
Using volunteers he also helped establish one of the Northwest's first victim advocate programs. He also believes he made a dent in alcohol-related accidents at the time. Rates went from 23 alcohol related auto fatalities the year before he came into office, to one alcohol related auto fatality the next year, he says.
"I stepped on an awful lot of toes to accomplish that."
Gunkel will sign copies of his book at the Asotin County Fair this weekend during fair hours. He will also sign books from 5-8 p.m. May 3 at And Books Too in Clarkston.
"Courage and Conviction: An Alaska State Trooper's Journey Through a Life of Principled Law Enforcement" by L. Gary Gunkel Authorhouse 351 pages, $15