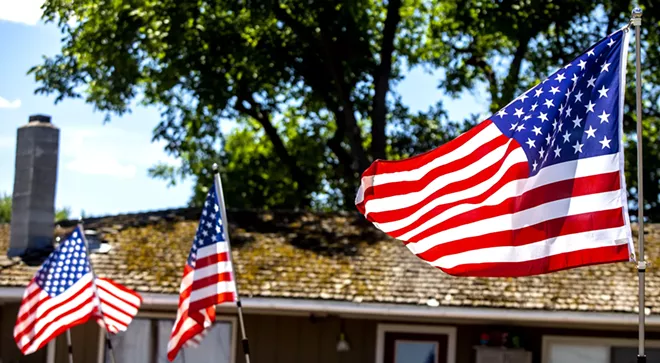 Fire officials around the region are urging residents to skip the private fireworks this year because of an unprecedented heat wave and drought conditions. Asotin and Nez Perce counties banned fireworks this week and officials in some area cities were making plans to follow suit.
There are plenty of ways to celebrate without personal explosives. Here are some of the major events happening this year.
Lewiston-Clarkston
The Rededication Ceremony of the Idaho Territorial Capital Replica will take place from 10 a.m. to 1 p.m.Saturday. The event, organized by the Nez Perce County Historical Society, is at the Nez Perce County Museum. David Leroy, past Idaho Attorney General, former lieutenant governor and Abraham Lincoln scholar, will present "Wallace in the Whitehouse." Admission to the museum is free. There will be ice cream, lemonade and water available.
The Community Spirit Fireworks Show starts at 10 p.m. Sunday over the Lewiston-Clarkston Valley. Because of circumstances surrounding COVID-19, the 2021 pre-show event at Clarkston High School's Adam's Field won't take place this year. Instead, people are asked to view the fireworks from one of the many vantage points in the Lewiston-Clarkston Valley. Synchronized music programs can be found on 106.9 FM, 105.1 FM, 93.1 FM and 1350 AM. Donations to help pay for the display can be made online at www.LCValleyFireworks.org.
Pullman
The Pullman Chamber of Commerce is planning its annual fireworks show over Sunnyside Park at 10 p.m. Sunday, but no live music or barbecue is planned this year. People can watch the show from the park but are encouraged to social distance.
The chamber is accepting donations to help offset the costs for the display. The event is paid for almost entirely by donations raised primarily at the barbecue, which isn't taking place this year because of budget cuts, according to a news release from the chamber. Donations can be dropped off at the chamber office. Checks also can be mailed to the chamber at 415 N. Grand Ave., Pullman.
Johnson
The Johnson Fourth of July Parade and festivities will start at 10 a.m. Sunday. Social distancing is encouraged.
Kooskia
Free Fourth of July activities for all ages will take place from 5:30 to 10 p.m. Sunday at Clearwater Valley High School. The event will feature apple pie, face painting, bouncy houses, a bungee trampoline, a mechanical bull, a dunk tank, water activities, concessions and school fundraisers. It's presented by Northwest Credit Union. Fireworks begin at dark. People should bring lawn chairs for seating.
Elk River
Elk River will celebrate the holiday weekend with activities Saturday. The Elk River Fire Department will hold a hamburger and sausage fundraiser from 10 a.m. to dusk at the ambulance shed, 114 S. Front St. The Thunder in the Mountains Fireworks Show starts at 10 p.m.
Orofino
The All-American Fourth of July Celebration is from 5-10 p.m. Sunday at Orofino City Park. The Orofino Rotary Club barbecue starts at 5 with food available until supplies run out. A fireworks show begins at 10:10 p.m. over the park.