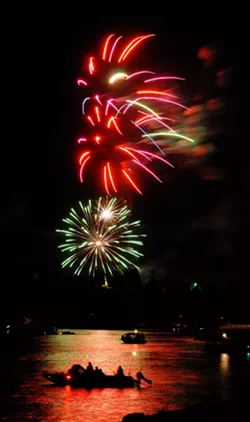 Towns around the region will celebrate the Fourth of July in their own way. Dogs will parade around Moscow in red, white and blue. In Lewiston the dead will return and kids can ride a stagecoach. Here's a few highlights for July 4, 2012.
LEWISTON
People can learn more about Lewiston's early settlers at the second annual Walking with Ancestors from 9 to 11:30 a.m. at the Normal Hill Cemetery (see accompanying story). The event is free.
A vintage fire truck and a stagecoach will offer families rides at an Old Fashioned Fourth of July from noon to 4 p.m. at Pioneer Park. Admission is free. The event kicks off with a Parade of Wheels with check-in at 11:30 a.m. A variety of children's games and activities will be offered throughout the afternoon. Concessions will be for sale.
The Community Band will play a free concert of patriotic music at 5 p.m. at the Pioneer Park bandshell.
CLARKSTON
The professionals will handle the night's firework show for the Lewiston-Clarkston Valley at Adams Field in Clarkston.
Gates open at 5 p.m. Live music starts at 6 p.m. with contestants competing in the Texaco Country Showdown. The Lewiston-Clarkston country band Coltrain takes the stage at 8 p.m. Fireworks are at 10. Admission is a suggested donation of $1, or $5 for a family. A portion of the proceeds will benefit the Red Cross.
MOSCOW
Independence Day will be noted by humans and hounds from noon to 1 p.m. in Friendship Square. It starts with a colors ceremony, the Pledge of Allegiance, the national anthem and a reading of the Declaration of Independence.
Next comes the Mutt Strut, a parade of Palouse pooches decked out in red, white and blue. The crowds will choose the winners and prizes will be awarded. Dogs interested in participating can register at the sign-up table at the square. Free popsicles will be served.
PULLMAN
Games for the whole family are part of Pullman's 36th annual Fourth of July celebration. Events start at 5 p.m. at Sunnyside Park. Cotton candy, ice cream, barbecue and popcorn will be for sale. Proceeds and donations fund the fireworks show.
Live music starts at 5:30 p.m. with the Community Band of the Palouse. Dan Maher, host of Northwest Public Radio's "Inland Folk" show, performs at 6:30. From 7:15 p.m. to dusk the Fabulous Kingpins will play,
Pullman Transit will offer free park-and-ride service to the park from Dissmore's IGA, Wheatland Shopping Center, Safeway and Living Faith Fellowship.
Alcohol, fireworks and pets are not allowed. Volunteers are needed to donate pies and help at the park. More information is available by contacting the Pullman Chamber of Commerce, (509) 334-3565.
GRANGEVILLE
The 101st annual Border Days offers rodeo, games and art in Grangeville.
Cowboy church starts the day at 9 a.m. at the rodeo grounds. A parade is at 11 a.m. in downtown Grangeville.
Art exhibits include Art in the Park at Grangeville City Park, and Western art in bronze from 9 a.m. to 6 p.m. at US Bank.
The Bicentennial Museum will be open from 1 to 5 p.m. at 305 N. College St.
The rodeo starts at 2 p.m. at the rodeo grounds. Admission is $10 for ages 12 and older; $5 for those younger than age 12, and free for children 5 and younger.