Local yoga teachers will offer a day of free yoga sessions between 10 a.m. and 6:30 p.m. Tuesday, June 21, in the Event Room at the Lewiston City Library, in celebration of International Day of Yoga.


Eight area yoga teachers have agreed to provide the sessions throughout the day, organizer Jeanette Gara-Betzold said. "In the spirit of International Day of Yoga promoting a holistic approach to health and well-being, I collaborated with local yoga teachers to showcase the wonderful variety of classes and people in our community," Gara-Betzold said, via Facebook Messenger. "Everyone is welcome to try or simply observe classes at the library, no experience necessary."
Classes will begin each hour on the hour between 10 a.m. and 6 p.m. Participants should wear comfortable clothing and bring a water bottle; no experience is necessary. Some mats will be available to borrow, but attendees are encouraged to bring a mat or towel.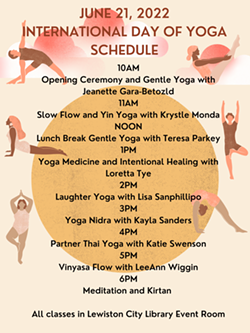 June 21, the first day of summer in the Northern Hemisphere, was established as the International Day of Yoga in 2014 by the United Nations General Assembly, according to Gara-Betzold. This year's theme is "Yoga for Humanity."


The 5,000-year-old tradition from India combines physical, mental and spiritual pursuits to achieve harmony of the body and mind.


More information about International Day of Yoga is at
yoga.ayush.gov.in/idy-2021
. Those with questions about the local event can email
info@jgbyoga.com
.