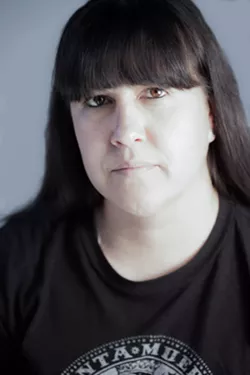 By MICHELLE SCHMIDT Inland360.com
Most people don't consider basketball and poetry compatible pursuits. But that's not the only assumption that Natalie Diaz challenges.
A Mojave Indian born in Needles, Calif., Diaz has spent time both on the reservation and off. Her basketball talents earned her a full athletic scholarship and later a professional career, playing in Asia and Europe before returning to the United States to study — you guessed it — poetry. Diaz earned a master's of fine arts from Old Dominion University, along with numerous honors and awards for her work.
Diaz will be reading her poetry Friday at BookPeople in Moscow, which sells her first poetry collection, "When My Brother Was an Aztec" ($16), a 2013 American Book Award winner. She'll also participate in HooPalousa, a basketball fundraising event to benefit a fellowship meant to recruit and retain top American Indian writers.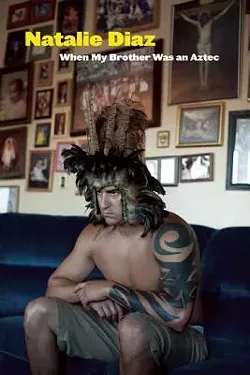 Here's what Diaz had to say about poetry, basketball and her Mojave language work:
360: How long have you been writing poetry? And how did that happen?
Diaz: I began studying poetry after I blew out my knee. I was training to go back overseas to play when I tore my ACL, MCL and meniscus. Since I was training at my alma mater, Old Dominion University, I decided to take some writing classes. I loved them. I loved reading and writing. I took it as a sign that I was supposed to do this new thing.
360: Before you were a poet, you were a basketball player. How are the two related?
Diaz: Basketball is not as different from poetry as I once thought. The writing process still feels physical to me — I sweat, I move around, I turn words over again and again in my head and in my mouth, much like spinning a basketball in my hand. In fact, sometimes I find myself lying on my back in my living room practicing form-shooting, shooting the ball into the air and letting it fall back into my hand and shooting it again, all while thinking about a line or image from a poem.
360: Has basketball influenced your work as a poet?
Diaz: I feel lucky to have come from basketball into poetry because it has allowed me to write without any sense of competition. I know what real competition is, so I do not need to invent it on the page or within my native writing world. My experience as a basketball player has made me a freer writer — I write what I need and want to write without much interference from outside expectations.
360: How do you hope to influence other, perhaps younger, American Indians?
Diaz: I hope my work with basketball, with language, and with poetry can help remind other natives that we have warriors in us, we have the fight to do anything we want. This world is our world to explore, to find beauty in, to find happiness in, to tell stories in, and to build the kinds of lives we want.
360: You're also involved in learning and preserving the Mojave language. Tell us more about that project.
Diaz: I have a lucky job: I work with my last Mojave-speaking elders to preserve and teach our native Mojave language. We are building a digital dictionary/encyclopedia, language movies, song projects, and other teaching tools. I have learned a lot from my elder teachers.
if you go: What: Poetry reading by Natalie Diaz When: 7 p.m. Friday Where: BookPeople, 521 S. Main St., Moscow Cost: Free
If Eve Side-Stealer & Mary Busted-Chest Ruled the World An excerpt from Diaz's "When My Brother Was an Aztec"
What if Eve was an Indian & Adam was never kneaded from the earth, Eve was Earth & ribs were her idea all along?
What if Mary was an Indian & when Gabriel visited her wigwam she was away at a monthly WIC clinic receiving eggs, boxed cheese & peanut butter instead of Jesus?
What if God was an Indian with turquoise wings & coral breasts who invented a game called White Man Chess played on silver boards with all white pieces pawns & kings & only one side, the white side & the more they won the more they were beaten?
What if the world was an Indian whose head & back were flat from being strapped to a cradleboard as a baby & when she slept she had nightmares lit up by yellow-haired men & ships scraping anchors in her throat? What if she wailed all night while great waves rose up carrying the fleets across her flat back, over the edge of the flat world?
Schmidt can be contacted at themichelleschmidt@gmail.com or at (208) 305-4578.