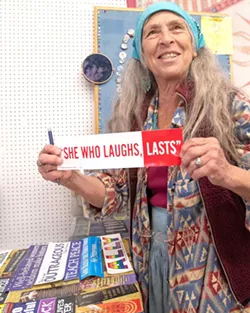 Moscow's Hemp Fest is back Saturday, April 15, for its 26th installment, with live music throughout the day, more than 30 craft vendors and a call to legalize medical marijuana in Idaho.


Festivities are set for 10 a.m. to 7 p.m. at Moscow's East City Park, 900 E. Third St., with
DJs performing between the seven musical acts, listed below.


Representatives from kindidaho.org will be on hand with petitions advocating for medical marijuana and will join other speakers on stage to discuss the issue.


Food will be available from Sushi Man, Marianas Tamales, the Battleground Food Truck and .
Ho'Okipa's Teriyaki Hut.
Hemp Fest is held during the University of Idaho's Family Weekend so students and parents can participate, connecting the university community with Moscow community events, organizer Arlene Falcon said in a news release.


More information is on the Hemp Fest Facebook page and at moscowhempfest.com.


Live music lineup:

Andru Gomez, mellow Americana — 10:30-11:15 a.m.
Will Fontaine, mellow Americana — 11:30 a.m. to 2 p.m.
Gramma Jam, rock 'n' roll — 12:15-1 p.m.
General Mojo's, alternative rock — 1:30-2:30 p.m.
Los Mal Hablados, Latin skacore — 3-4 p.m.
Snacks at Midnight, high-energy rock — 4:30-5:30 p.m.
Solid Ghost, soulful rock and blues — 6-7 p.m.