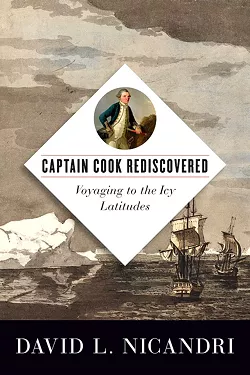 <!——StartFragment——>

Captain Cook is widely considered one of the greatest navigators and explorers of all time. A national hero and icon in Britain, he mapped the east coast of Australia in 1770, circumnavigated the globe more than once and proved there was no mysterious Southern Continent. However, his final journey in 1780 exploring the northern Pacific is often treated as a footnote in history.
Olympia-based historian David L. Nicandri, an expert in the Pacific Northwest's exploration phase, will present new perspectives on Cook and the Lewis and Clark Expedition Feb. 11 and Feb. 17 during free livestream talks on YouTube.
The presentations are based on Nicadri's latest books: "Captain Cook Rediscovered: Voyaging to the Icy Latitudes" and "Lewis and Clark Reframed: Examining Ties to Cook, Vancouver, and Mackenzie."


"Captain Cook Rediscovered" is the first modern study of Cook's career from a North American viewpoint, according to a news release from Washington State University Press. While Cook is famously linked to the South Pacific, his crowning navigational and scientific achievements took place in the polar regions. The book examines these voyages, which included missions near the poles where Cook pioneered the science of iceberg and ice pack formation.
"Lewis and Clark Reframed: Examining Ties to Cook, Vancouver, and Mackenzie," probes the Lewis and Clark Expedition beyond the Rocky Mountains and demonstrates how earlier explorers like Cook, along with fur traders, influenced the American captains.
Nicandri is the former director of the Washington State Historical Society. The talk is presented by WSU Press, the University of British Columbia Press, the Captain Cook Society, And Books Too in Clarkston and the Cowlitz County Historical Museum.
<!——StartFragment——>
IF YOU WATCH
WHO: Historian David L. Nicandri on Captain Cook and the northern Pacific.
WHEN:
WHERE: WSU Press YouTube channel. Links available at www.wsupress.wsu.edu under News and Events.
<!——EndFragment——>
<!——EndFragment——>