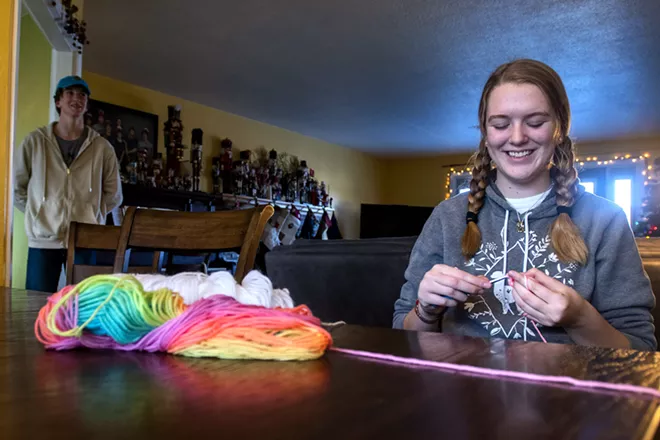 Editor's note: The days are dark, the excitement of the holidays waning. The winter doldrums loom, but it can also be a time for introspection and creativity. Over the next couple of months, Inland 360 will highlight arts and crafts, including handiwork like the crochet featured this week, that help some of our readers find peace in the moment and pass the time until the days are brighter.
Penelope "PJ
" Mosman, of Clarkston, learned to crochet from her grandma Patsy Rogers.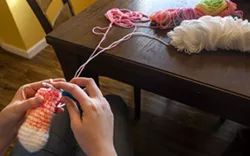 "She knew how to, but she forgot, so she relearned with me," Mosman said. "I started when I was 4."
Mosman, now 17 and a high school senior, said it's difficult to estimate how many projects she has completed.
"Just in the last year has probably been over 150," she said. "So, hundreds."
Her productivity ramped up last year when COVID-19 hit, and she began crocheting custom creations.
She has an Etsy shop, but the majority of her sales are via Instagram and Facebook.

Most of her projects are toy animals: a sloth, a giraffe, a rainbow-colored alpaca. Scrunchies for pulling hair into a ponytail or bun also are a frequent customer request.
"I made a sweater for my mom," Mosman said. "That was really hard, because with wearables, sizing is really difficult."
A typical piece, though, doesn't require much attention.
"It's just to keep my hands busy, normally," she said, noting she crocheted in the dark car on the way to Seattle when her family visited relatives recently. "It became very relaxing over the years."
Mosman uses patterns for the animals she makes, primarily from Etsy and Ravelry, a social network for fiber arts. Her yarn comes mostly from Joann, a fabric store with locations in Clarkston and Moscow. She prefers blanket yarn, mostly acrylic and cotton, for the animals she crochets, because working up the bulky yarn is easier on her wrists and shoulder.
One day, though, she hopes to crochet projects with yarn spun from fiber that comes from her backyard menagerie of camelids.
Mosman's 16th birthday wish was to have an alpaca, and she got her wish, times four. She now owns five alpacas and a llama.
They had their first shearing earlier this year, but didn't produce enough fiber to be processed. After their second shearing, set for May, she expects she'll have enough.
"The next thing is to get the fiber processed enough to where I can spin it," she said.


Then, she'll try her hand at spinning, either with a wheel she owns but needs to repair or with an electric spinning wheel she hopes to acquire.
In the meantime, she's finishing her final year of home school, taking classes toward her associate degree at Walla Walla Community College and working two jobs, one at Intermountain Feed in North Lewiston and another at Rustebakke Veterinary Service in Clarkston. Her goal is to become a vet tech.
And, of course, to eventually crochet a project with yarn she has "grown" herself.
Stone can be contacted at mstone@inland360.com.