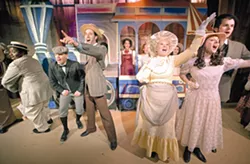 It's got high energy, plenty of color and lots of laughs … what else do you expect from a classic Broadway musical?
"Hello, Dolly!" opens tonight at Regional Theatre of the Palouse. So highly anticipated is the local production, that the April 12 show has already sold out.
Its popularity should come as no surprise. "Hello, Dolly!" is one of Broadway's big hits, with its bold characters and catchy musical standards. The uplifting family show is sure to have audiences humming as they leave the theater, said John Rich, artistic director.
Set in New York City during the late 1800s, the show has an extensive set and vibrant costumes with plenty of frills, bustles and top hats. Dolly Levi is a gregarious widow who makes her living matchmaking – and finds a conflict of interest when she falls for one of her clients.
"The show is effervescent from the moment Dolly steps on stage until the last note of the finale," said Nate Barham, first-time cast member. "The characters each have an energy of their own, and the cast feeds off the abundance of personality."
Barham plays one of these vibrant characters in the part of Barnaby Tucker, which he describes as a wide-eyed sidekick who shows up for laughs. As a younger character, Barnaby seems to just be along for the ride but ends up with a match of his own.
"The strength of the show is its humor, both physical and verbal, as well as the infectious musical numbers whose simple, singable lyrics worm their way into the mind even after only a listen or two," said Barham.
For all its fun and laughter, the show has its somber moments. Both Dolly and Irene Molloy, a hat shop owner who is looking for new love, are widows. The show takes up their loss, which they still feel amid their romantic adventures.
"The show is about finding joy in the life that is, while still remembering the love that was," said Barham.
If joy plays center stage, then Dolly is right alongside. Dolly is played by Tina McClure, who, even with 15 years of local theater experience, claims it has been her most challenging role yet — likely because there aren't too many times she's not talking.
"Because of her incessant talking, I guess I was born to play this role," McClure said. "When my 11-year-old son, Garrett, heard me rehearsing at home he said, 'Wow, Mom, she (Dolly) talks as much as you do!' "
For all her talking, McClure says there is something charming about Dolly's busybody nature. Even when things don't go as planned, she stays calm and focused on what she wants.
"She is absolutely amazing as Dolly Levi, and is such a great leading lady," said Kelli Barham, who plays Irene, a sort who is ready to break out of her shell. This is Barham's third show with RTOP, second acting as music director and first show with her husband, Nate.
Opposite the happy-go-lucky Dolly is the grumpy Horace Vandergelder, played by Hector Aguilar. Though wealthy, influential and interested, Horace lacks the friendliness needed to make a match. But his rough edges don't dissuade Dolly.
"We all have our mean moments in life, and it is fun to play the bad person of the show," said Aguilar of his unlikeable character.
The role gives him a chance to boss people around, something he says doesn't happen in his real life as an assistant professor and scientist at WSU.
"This is a very fun show, with hilarious lines and lyrics," said Aguilar. "I have been in several shows before, and this is definitely one of the funniest."
if you go WHAT: Hello, Dolly! WHEN: April 11, 13 and 17-20 at 7:30 p.m. April 13, 20, 21 at 1:30 p.m. WHERE: Regional Theatre of the Palouse, 122 N. Grand Ave., Pullman ADMISSION: Advance — adults $17, children $10, door — adults $20, children $12. Reservations can be made by calling the RTOP box office at (509) 334-0750