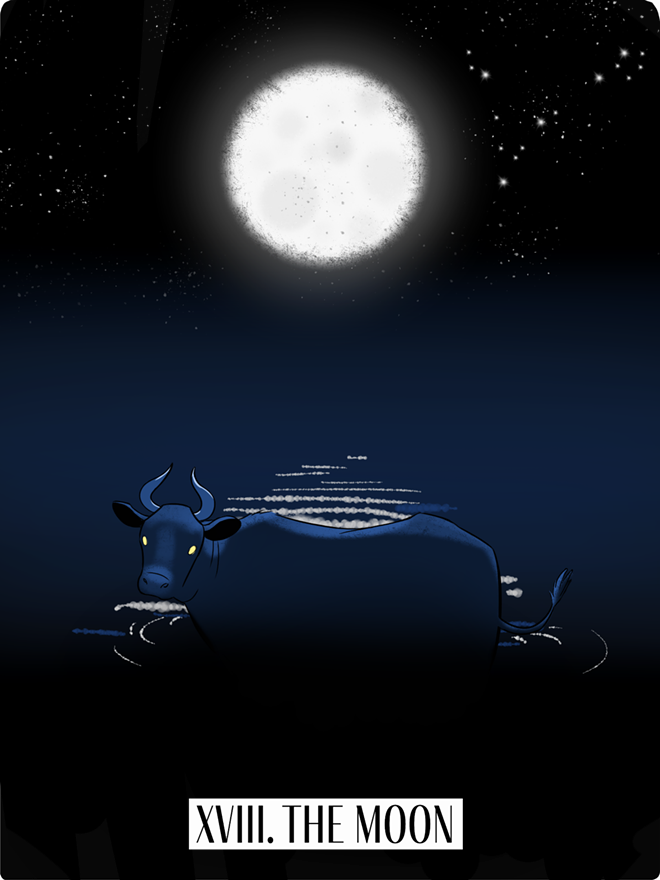 The moon
Pisces: Feb. 19-March 20

In tarot, the moon is a card that represents illusion, deception and femininity. It is a powerful force that shows us cycles, emotions and the world of the unconscious.
The moon is a shadow self of the sun. Nighttime hides the sunlight in another present, reflected instead of direct, which typically represents half-truths.


Inland 360 illustrator Lars Roubidoux's artwork for the moon tarot shows a cow wading through water. The cow represents Hathor, a goddess of femininity, fate and the sky.
The water represents flux and change. The ocean's tides are controlled by the moon, and it is believed water in the human body is controlled similarly.


We also can see the Pisces constellation in the sky, symbolizing people born in Pisces season, who tend to be emotionally sensitive, gracious and emotionally aware.


This Pisces season, it's good to be aware of your own emotions and consider your personal definition of illusion and the role it plays in your life.
In the Cards is a monthly exploration into the world of tarot readings. Johnson can be found on Etsy at BlackMagicBeautyShop and Instagram @blackmagic._beauty.