Listening to Mother Yeti play is like looking through a kaleidoscope at the history and breadth of rock 'n' roll.


The Moscow-based band blends guitar-shredding noise rock with punk, suggestions of psychedelic tunes from the '70s and maybe even a hint of soul thrown in to produce a sound uniquely its own.


While pinning down Mother Yeti's genre inevitably is an exercise in futility, that diversity is what makes the band so much fun to hear.


"Whatever we come up with is who we are that day," said lead singer and guitarist Bill Tracy, a few hours before taking the stage at Moscow's John's Alley Tavern earlier this month for a second show in as many nights. "One of the great things about playing with these guys is that they will continuously name bands that I have no idea who they are. It's actually really refreshing. Getting introduced to all that makes me want to write and perform differently each day."


Tracy, guitarist Corey Oglesby, bassist Joe Marsh and drummer Jim Rizzuto took the crowd at John's Alley through some of their most recent songs in a performance that didn't end till well after midnight.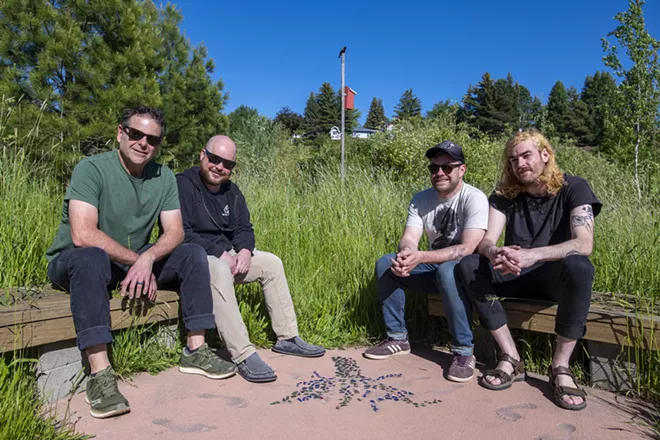 In a vacuum, the uplifting, almost Weezer-like sound of tracks like "Over this Feeling" seem incongruous when compared to the punk rock-fueled beat and guitar riffs of songs like "Garbage Puck." But, like bacon and ice cream, they go well together.


"We have some really easy-to-take, accessible songs and then some really abrasive punch-you-in-the-face songs like 'Garbage Puck,' which, man, I picked a terrible name for," Tracy said with a laugh. " 'Garbage Puck' is fun because when it goes off, it goes off like a rocket. But when it doesn't, it doesn't matter, because it is still fun. It's like a beautiful mess sometimes."


Watching Mother Yeti jam out to openers Ba Lonely and Big Raffle at John's Alley for two hours before taking the stage and hearing their light-hearted, self-effacing rapport would make you think the band has been playing together for a long time, but that's not the case. Its current iteration has been together only since October.

Like the small university town the group calls home, Mother Yeti has had many people come and go. But that has helped to keep the music dynamic over the years, according to Rizzuto, who joined the band seven years ago when he moved to Moscow.

"One of the great things about Mother Yeti is that we have never been just like four guys in a room making their own noises," he said. "We have had a lot of different lineups, but the group has always consisted of empathetic musicians who play off one another, and that keeps things interesting. I think what we are playing right now is totally unique. There are no songs from the incarnation of the band that I joined that we play anymore."


The journey Mother Yeti took to arrive at its current, self-described "eclectic" version of rock 'n' roll started more than a decade ago when Tracy and longtime friend and founding bandmate Zack Degler took their high school jam sessions up a notch and recorded an EP of the two of them playing all the instruments.


Back then, the band had more of a psychedelic, Led-Zeppelin-like feel to it, according to Tracy.


"It used to be just Degler and I doing all the instruments, but then we found someone who solely plays the drums and that changed the band in a way that is hard to explain," Tracy said. "It kind of just made us less psychedelic and more of a rock band that experiments occasionally."


In recent years, Tracy said he has found himself wanting to play more fast-paced, hardcore rock that is both pummeling and powerful.


"Basically, stuff that I might not want to do when I'm a 70-year-old guy. Just to get it out of the way while I still have the energy," he said. "But who knows? You can never really tell which direction this band is going to take."


The band's current lineup of musicians recently recorded an album they have yet to name. They hope to release it in the coming year.

"It was all done live, which is cool, and I honestly think it is the most urgent-sounding of the music Mother Yeti has released yet, with an overall high-energy feel," Tracy said. "We might throw out a couple of singles and get people salivating for it, so stay tuned."


While some of Mother Yeti's more recent recordings are difficult to find online, several of its previous albums are available on Pandora, Spotify and wherever else you listen to music.

Ferguson (he/him), a longtime Coug, is a lover of history, music and scotch. He can be reached at (509) 954-2912 or willfergusonsci@gmail.com.