Matthew Robinson has infected Moscow with a rare strain of virus. Emaciated bodies with hunched backs stagger along near Main Street — all drooling with a hunger for brains and the desire to donate to a good cause.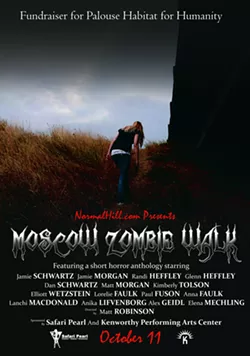 Robinson makes short horror films, and this week, he's sharing them with zombie-dressed masses, as he hosts Zombie Walk for the
Palouse Habitat for Humanity
, which includes a carnival, costume contest and film festival Friday.
"Horror films are the easiest way to get an emotional reaction," said Robinson, owner of Normal Hill Studio in Lewiston.
Without a college degree or a background in videography, Robinson started Normal Hill Studio three years ago with a simple desire to learn. He checked out books from the library, read filmmaker blogs and tested film footage. He chose to shoot horror films, because they're exciting, he said.
"I like the process of learning how to make something and actually making something," Robinson said.
Armed with a low-grade digital SLR camera, Robinson said he makes up for poor film quality with good lighting and shot variation.
"I'm trying to figure out a way to do it as cheaply and easily as possible," said Robinson, who makes his own clamp lights and PVC pipe camera mounts.
But Robinson can't build all his gear, so he has had to raise funds for items, such as a green screen and costumes.
"If you get blood on people, it's nice not to get it on their own clothes," he said, laughing.
And boy, his films have a lot of blood.
Robinson will show three short horror films at the Kenworthy Performing Arts Centre after the Zombie Walk from Friendship Square. "Backyard Firepit," "Babysitter" and zombie film "It's Yours Forever" are less than 20 minutes combined and preface George A. Romero's "Night of the Living Dead."
"'Night of the Living Dead' reinvented zombies from mindless drones to the cannibalistic zombies we know today," Robinson said.
Even though Robinson said his films are free of nudity and vulgar language, the films are for adults only, due to the amount of blood and violence.
Bring the kids to the walk, costume contest and Carnivore Carnival instead, Robinson said, and keep an eye out for Sale Zombies, who will be patrolling the events with donation cans. A Zombification Station with free zombie make-up and blood will be on site. Zombie costume contest winners will win awards provided by Safari Pearl or Paradise Creek Bicycles.
"Zombies are silly," Robinson said. "The apocalypse — that's never going to happen. So, it's just play."
Treffry can be contacted at (208) 883-4640 or ltreffry@inland360.com. Follow her on Twitter at: @LindseyTreffry.
Friday's Moscow Zombie Walk schedule: 4 p.m. - Children's Carnivore Carnival with games, candy and free (fake) blood, Friendship Square 5:30 p.m. - Children's zombie costume contest, Friendship Square 6 p.m. - Zombie Walk - a walk through downtown Moscow, starting at Friendship Square, together as zombies 6:30 p.m. - Adult costume contest at the Kenworthy Performing Arts Centre 7 p.m. - Horror Shorts by NormalHill.com 7:30 p.m. - "Night of the Living Dead" feature film
Five things you need to create a short horror film, according to Matthew Robinson of Normal Hill Studios: 1. Fake blood 2. Any camera 3. Lights 4. The notion that it's going to be a lot of work 5. The time to practice